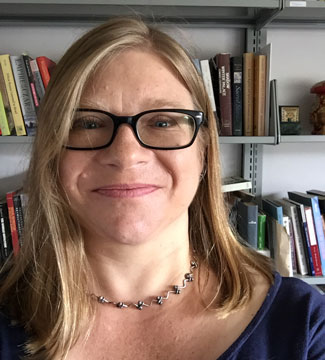 Sharyl Corrado
Assistant Professor of History
Humanities/Teacher Education Division
, Seaver College
CAC 110
Education
PhD, History, University of Illinois at Urbana-Champaign, 2010
MA, Educational Ministries, Wheaton College, 2000
BA, Linguistics, Northwestern University, 1993, with departmental honors
"The Highest Limit of Statesmanship": Ritterian Geography and Russian Exploration of the Amur River Basin, 1849-1853," Sibirica: Journal of Siberian Studies 14, no. 2 (Summer 2015), 1-28.
"'Sakhalin -- Ostrov!': Meniaiushchiesia Myslennye Karty Priamur'ia, 1848-1855 gg." ["Sakhalin is an Island!": The Changing Mental Maps of the Priamur, 1848-1855], Rossiia i ATR 2014, no. 4, 109-119. (in Russian) Available here
Review of On the Edge: Baptists and Other Free Church Evangelicals in Tsarist Russia, 1855-1917, by Albert W. Wardin, Jr. East-West Church & Ministry Report 22, no. 4 (Fall 2014). Available here
"A Land Divided: Sakhalin and the Amur Expedition of G.I. Nevel'skoi, 1848-1855," Journal of Historical Geography 45 (July 2014), 70-81.
"Sakhalinskaia katorga imezhdunarodnaiatiuremnaiareforma" [Sakhalin Penal Servitude and International Prison Reform]. In A.P. Chekhov i Sakhalin--vzgliadiz XXI-go stoletiia [A.P. Chekhov and Sakhalin--A View from the 21st Century], ed. M.S. Vysokov, 35-42. Yuzhno-Sakhalinsk, Russia, 2011.
Review of Russian America: An Overseas Colony of a Continental Empire, 1804-1867, by Ilya Vinkovetsky. Ab Imperio (August 2012)
Co-edited with Toivo Pilli. Eastern European Baptist History: New Perspectives. Prague: International Baptist Theological Seminary, 2007
"The Gospel in Society: Pashkovite Social Outreach in Late Imperial Russia." In Eastern European Baptist History: New Perspectives, ed. by Sharyl Corrado and Toivo Pilli, 52-70. Prague: IBTS, 2007
Filosofiia sluzheniia polkovnika V.A. Pashkova [The Philosophy of Ministry of Colonel V.A. Pashkov]. Translated by M.S. Karetnikova. St. Petersburg: Bibliiadliavsekh, 2005
"Ritual, Power, and Reality in Early Russian Culture: A Critical Look at Recent Historiography," Fides et Historia 37 (Spring 2005): 1-16.
Review of California Through Russian Eyes, 1806-1848, comp., trans., and ed. by James R. Gibson. Historical Geography: An Annual Journal of Research, Commentary, and Reviews 42 (2014).
Review of Communities of the Converted: Ukrainians and Global Evangelism, by Catherine Wanner. Religion, State, and Society 37 (August 2009).
Review of Sacred Stories: Religion and Spirituality in Modern Russia, ed. by Mark D. Steinberg and Heather J. Coleman. Religion in Eastern Europe 27 (February 2007).
Review of Gubernatory Sakhalina [Governors of Sakhalin], ed. by A.I. Kostanov. Sibirica: the Journal of Siberian Studies 4 (October 2004).
Review of Through Orthodox Eyes: Russian Missionary Narratives of Travels to the Dena'ina and Ahtna, 1850s-1930s, trans. and ed. by Andrei A. Znamenski. Fides et Historia 37 (Spring 2005).
Postdoctoral Research Fellowship Japan Society for the Promotion of Science. In residence at the Slavic Research Center of Hokkaido University, Sapporo, Japan. June-Dec. 2012
Fulbright-Hays Doctoral Dissertation Research Abroad Award (DDRA), 2004-2005
Sakhalin Department of Culture award for contributions to the study of Sakhalin Island, Yuzhno-Sakhalinsk, Russia, 2005
Title VI Foreign Language and Area Studies (FLAS) Fellowship in Russian and East European Studies, 2000-2001, 2001-2002, 2003-2004
American Historical Association
Association for Slavic, East European, and Eurasian Studies
Conference on Faith and History
Topics
Cross-cultural encounters
Modern European History
Popular Religion
Russian History
Courses
Nineteenth-Century Europe
Twentieth-Century Europe
Western Culture III
Topics in Global History: Imperialism