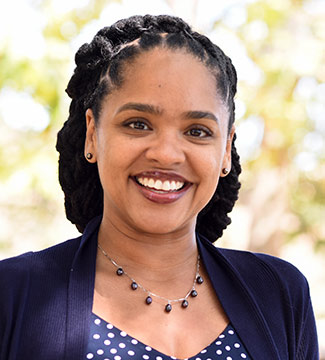 Roslyn M. Satchel
Blanche E. Seaver Professor of Communication
Associate Professor of Communication
Communication Division
, Seaver College
Malibu, CCB 243
Biography
Since joining Pepperdine's faculty in 2013, Roslyn Satchel has taught law, graduate, and undergraduate students in ethics, communication, and law courses. Currently a Berkman Klein Center Fellow at Harvard Law School, Dr. Satchel's research focuses on social movements, gendered violence, and racialized gender issues in media, religion, and law. Her book, What Movies Teach about Race: Exceptionalism, Erasure, and Entitlement, examines the highest-grossing films throughout history under a critical lens. Her work as a scholar-activist has earned her multiple awards including Pepperdine's 2020 Howard A. White Teaching Award, the 2019 National Communication Association's Feminist and Women's Studies Scholar-Activist Award, and Pepperdine's 2017 Distinction in Diversity and Inclusive Excellence.

Education
PhD Media & Public Affairs, Louisiana State University, 2013
JD Law, Emory University, 2000
MDiv Theology, Emory University, 2000
BA Communication, Howard University, 1995
Research
Satchel, R. M. and Bush, N. V. (2020). Social Movements, Media, and Discourse: Using Social Media to Challenge Racist Policing Practices and Mainstream Media Representations.. In Nathan Crick (Ed.), The Rhetoric of Social Movements: Networks, Power, and New Media. London and New York: Routledge/Taylor & Francis.
Satchel, R. M. (2019). What OWN's Love Is Teaches about Culture, Gender, and Violence. In Kandace Harris and Shauntae Brown White (Eds.), Representations of Black Womanhood: Being Mara Brock Akil. Lanham, MD: Lexington Books/Rowman & Littlefield.
Kellner, D. and Satchel, R. M. (2018). Resisting Youth: From Occupy Through Black Lives Matter to the Trump Resistance and Parkland Youth Gun Control Movement. In Shirley Steinberg and Barry Down (Eds.) The SAGE Handbook of Critical Pedagogies. Thousand Oaks: Sage.
Satchel, R. M. (2016). What Movies Teach about Race: Exceptionalism, Erasure, & Entitlement. Lanham, MD: Lexington Books/Rowman & Littlefield.
Satchel, R. (2016). Film's Political Economy and Django Unchained. [Special Issue] Black Camera: An International Film Journal, 7(2), 88-93. doi:1. Retrievable from http://www.jstor.org/stable/10.2979/blackcamera.7.2.88 doi:1
Satchel, R. and Augustine, J. (2012). Religion, Race, & the Fourth Estate: Xenophobia in the Media Ten Years After 9/11, Tennessee Journal of Race, Gender, & Social Justice: Vol. 1: Iss. 1, Article 3. Retrievable at http://trace.tennessee.edu/rgsj/vol1/iss1/3
Awards
Member, Kappa Tau Alpha National Honor Society
Fellowship Award, Southern Regional Education Board and Louisiana Board of Regents
Honoree, Emerging Voices Award, Spelman College's WISDOM Center
Honoree, National Association of Black Social Workers
Honoree, EBONY Magazine's "30 Young Leaders of the Future"
Herman Dooyewerd Prize in Law & Religion, Emory University School of Law
Honoree, National Crime Prevention Council's 50 Strategies for Faith and Justice Collaboration
Honoree, Institute for Women's Policy Research's Called to Speak: Women, Religion & Advocacy
Honoree, Institute for Women's Policy Research's The Ties That Bind: Women's Public Vision for Politics, Religion & Civil Society
Pepperdine's 2020 Howard A. White Teaching Award
2019 National Communication Association's Feminist and Women's Studies Scholar-Activist Award
Pepperdine's 2017 Distinction in Diversity and Inclusive Excellence
Grants
Endowed Professorship 2019-2024: The Blanche E. Seaver Professor of Communication
Pepperdine University Cross-School Collaborative Research Grant (2018-2019)
Pepperdine University Cross-School Collaborative Research Grant (2017-2018)
Pepperdine University Seaver Faculty Research Grant (multiple awards 2013-2017)
Pepperdine University Community Based Research Program Grant (multiple awards 2015-2018)
Pepperdine Seaver College Diversity and Inclusive Excellence Award (Spring 2016)
Seaver Fellowship in Communication (Spring 2015)
Seaver College Dean's Research Grant (Spring 2016, Fall 2015, Spring 2015)
Seaver College Faculty Student Mentorship Award (Fall 2017, Fall 2016, Spring 2015, Fall 2014)
Pepperdine's Academic Year Undergraduate Research Initiative (Spring 2016, Spring 2017)
Ford Foundation Women's Human Rights Grant for policy advocacy work on behalf of girls in juvenile justice systems
Louisiana Board of Regents' Diversity Fellowship Award
Soros Postgraduate Justice Fellowship Award, Criminal Justice Initiative of the Open Society Institute, Soros Foundation (New York)
Areas of Expertise
Cultural, Critical, and Historical Studies of Communication/Media, Religion, and Law
Human Rights in Policy Advocacy and Community Organizing
Ethics and Intercultural Media Literacy
Public Relations Strategies and Tactics
Topics
Communication, Culture & Human Rights
Democracy & Media Diversity
Intersectionality in Media, Religion, and Law
Public Relations & Public Affairs
Courses
Intercultural Media Literacy
Media Law
Ethics
Social Action and Justice
Antiracism / Cultural Competence
Public Relations Strategies & Tactics
Cultural, Critical, and Historical Studies of Communication/Media, Religion, and Law