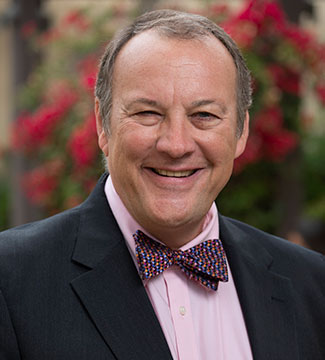 Robert E. Williams
Divisional Dean (Social Science Division)
Professor of Political Science
Social Science Division
, Seaver College
Malibu, AC 201C
Biography
Dr. Robert E. Williams, Jr. is professor of political science at Pepperdine University, where he has been teaching since 1992. Before joining the faculty of Seaver College, he taught at Southwest Missouri State University (now Missouri State University) in Springfield, Missouri and at Abilene Christian University in Abilene, Texas.
At Pepperdine, Williams teaches International Relations, Ethics and International Politics, and International Organizations and Law.
Williams graduated summa cum laude with a B.A. in History from Abilene Christian University. He earned an M.A. from the Johns Hopkins University School of Advanced International Studies and a Ph.D. from the University of Virginia.
He is the author, with Dr. Dan Caldwell, of Seeking Security in an Insecure World and the co-editor of a two-volume work entitled Arms Control: History, Theory, and Policy. Williams has published articles and book chapters on just war theory, human rights, and the American theologian Reinhold Niebuhr.
Education
PhD, Foreign Affairs, University of Virginia, 1987
MA, International Relations, Johns Hopkins University, School of Advanced International Studies, 1982
BA, History, Abilene Christian University, 1980, Summa Cum Laude
Research
Seeking Security in an Insecure World, 3rd ed. (Lanham, MD: Rowman & Littlefield, 2016), with Dan Caldwell.
"Jus Post Bellum: Justice in the Aftermath of War," in The Future of Just War: New Critical Essays, ed. Caron E. Gentry and Amy E. Eckert (Athens: University of Georgia Press, 2014), 167-79.
Arms Control: History, Theory, Policy, 2 vols. (Santa Barbara, CA: ABC-Clio, 2012), general editor (with Paul R. Viotti).
"From Malabo to Malibu: The Consequences of Corruption in an African Petrostate," Human Rights Quarterly 33 (August 2011): 620-48.
"Jus Post Bellum: Just War Theory and the Principles of Just Peace," International Studies Perspectives 7 (November 2006): 309-320, with Dan Caldwell.
"Christian Realism and 'The Bomb': Reinhold Niebuhr on the Dilemmas of the Nuclear Age," Journal of Church and State 28 (Spring 1986): 289-304.
Awards
Hubert H. Humphrey Fellowship in Arms Control and Disarmament, U.S. Arms Control and Disarmament Agency, 1986-1987
Areas of Expertise
Ethics and international politics
International organizations and law
Topics
Human Rights
International Security
Normative Theory
Courses
International Relations
International Organizations and Law
Ethics and International Politics
International Human Rights