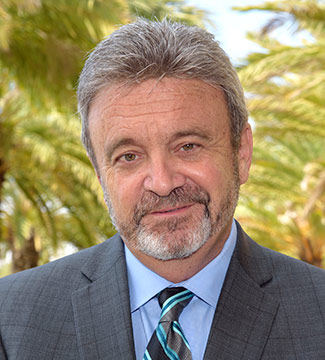 Ned Colletti
Executive in Residence in Sports Administration
Communication Division
, Seaver College
CCB 213
Biography
Ned Colletti has worked in Major League Baseball for 36 years and has become one of the winningest executives during the last 20+ years having scouted, signed or developed numerous championship caliber and Hall of Fame Baseball players.
He led the Los Angeles Dodgers as General Manager for nine seasons, leading the team to five post-season appearances including three appearances in the League Championship Series. The five post-season appearances during his tenure equaled the best nine-year period in the history of the Los Angeles franchise. During his nine years as GM, no National League GM won more games than Colletti.
In 2017, with a team which included some of his best acquisitions, the Dodgers qualified for the post-season for an eighth time during Colletti's 12-year tenure as he transitioned into a career involving a new opportunity to teach at Pepperdine University; scouting, player development and another different opportunity, as an analyst on the Dodgers/Spectrum SportsNet LA network, as well as, MLB on the TuneIn radio network.
Prior to working in Los Angeles, he began his baseball career with his hometown team, the Chicago Cubs, where he worked for 13 seasons. He left Chicago for California and spent 11 years with the San Francisco Giants, the Dodgers fiercest rival. As the Assistant General Manager in SF, he helped change and build a winning culture that helped lead the Giants to four post-season appearances while he was there and three World Championships since he left.
During a nine-year stretch, the Giants played just 15 of 1,458 games eliminated from post-season play. While Colletti was in LA, the Giants continued building the culture he helped develop and won three World Series between 2010 and 1014. The breakeven point in Major League Baseball is 81 wins and in 19 of the last 21 seasons, Colletti's teams have surpassed the 81-win mark, including 12 seasons in which it surpassed 90 wins. Of the many top level baseball executives only one has a better won-loss percentage during the past 20+ seasons.
He has negotiated baseball contracts for more than 25 years and has signed Hall of Fame players and All-Stars. He has negotiated more than $2 billion of baseball contracts.
Colletti was born in Chicago and lived the first five years of his life in a garage before the family moved into an 899-square foot, four-room brick home in suburban Franklin Park, two miles southeast of O'Hare International Airport. He was the first in his family to attend and graduate from a university. From his blue collar roots, he developed a work ethic that is relentless, loyal and passionate and has given him the background to relate to both corporate leaders and executives as well as entry level employees.
Respecting his career opportunities and having a strong desire to give back, Colletti has helped many local charitable organizations, specializing in financial assistance and mentoring help for students. He is on the board of Vision to Learn, a non-profit which helps children in under served areas receive eye exams and glasses free of charge. He also works very closely with A Place Called Home and Get Lit-Words Ignite, two organizations that have helped under served and under resourced students gain confidence, establish and stay on a good path, set goals and achieve success. At A Place Called Home he has assisted seven students with resources and guidance in order to help them graduate from universities. Presently, he is assisting eight additional students who are in college, all of them, like him, being the first of their family to attend. He is also mentoring students and alumni from Get Lit-Words Ignite as they begin careers in drama, movies and television.
His fifth book and first in 30 years will be released on October 3, 2017: The Big Chair: The Smooth Hops and Bad Bounces from The Inside World of the Acclaimed Los Angeles Dodgers General Manager (Penguin, Random House). Besides being the keynote speaker for top executives from many large companies, law firms and other professional sports franchises, Colletti has spoken to many collegians. Besides teaching at Pepperdine, he has lectured at the following universities: USC, UCLA, Stanford, University of San Francisco, Arizona State, Michigan, Illinois, DePaul, Cal State Fullerton, Concordia University in Montreal, Que., Southwestern School of Law (in Los Angeles) and his alma mater Northern Illinois University. A few of the topics he lectures and leads discussions on are:
Managing a prized civic entity through a public relations crises and being successful
Building a strong, vibrant culture
Inspirational and motivational life lessons
Negotiation styles & techniques
Leadership: How to lead at every level
Corporate team building
Education
BS, Journalism, Northern Illinois University, 1976, Dean's List
Topics
Film and TV writing
Study of Psychology and Athletics
Trends in Media