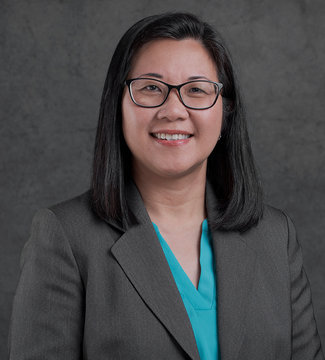 Loan Pham Kim
Associate Professor
Natural Science Division
, Seaver College
RAC 120
Education
PhD, Public Health, University of California, Los Angeles, 2011
RD, Dietetic Internship, University of California, San Francisco Medical Center, 1997
MS, Nutritional Science, San Jose State University, 1996
BS, Clinical Dietetics, University of California, Berkeley, 1994
Kim, L.P., Koleilat, M., Whaley, S.E. A qualitative study to examine perceptions and barriers to appropriate gestational weight gain among participants in the Special Supplemental Nutrition Program for Women, Infants and Children (WIC) program. J Pregnancy, 2016. Article ID 4569742,DOI:10.1155/2016/4569742.
Min, J.E., Green, D.B., Kim, L. P. Calories and sugars in boba milk tea: implications for obesity risk in Asian Pacific Islanders. Food Sci Nutr, 2016. 4(2): 1-8. DOI: 10.1002/fsn3.362.
Kim, L.P., Whaley, S., Gradziel, P., Crocker, N., Ritchie, L., Harrison, G. Mothers prefer fresh fruits and vegetables over jarred baby fruits and vegetables in the new special supplemental nutrition program for women, infants, and children food package. J Nutr Educ Behav, 2013. 45:723-727.
Chaparro, M.P., Langellier, B.A., Kim, L.P., Whaley, S.E. Predictors of accurate maternal perception of their preschool child's weight status among Hispanic WIC participants. Obesity, 2011. 19(10): 2026-30. DOI:10.1038/oby.2011.105
Kim, L.P., G.G. Harrison, and M. Kagawa-Singer. Perceptions of diet and physical activity among California Hmong adults and youths. Prev Chronic Dis, 2007. 4(4): A93.
Harrison, G., Kagawa-Singer, M., Foerster, S., Lee, H., Kim, L.P., Nguyen, T., Fernandez-Ami, A., Quinn, V., Bal, D. Seizing the Moment: California's opportunity to prevent nutrition-related health disparities in low-income Asian-American populations. Cancer, 2005. 104(12 Suppl): 2962-8.
Ikeda, J., Pham, L., Nguyen, K. Culturally relevant nutrition education improves dietary quality among WIC-eligible Vietnamese immigrants. J Nutr Educ Behav, 2002. 34: 151-158.
Dean's Outstanding Student Award, UCLA, 2011
American Heart Association Pre-Doctoral Research Fellowship, 2009-2011
American Public Health Association
Academy of Nutrition and Dietetics
American Society for Nutrition
Topics
Childhood Obesity
Health disparities among low-income immigrant communities
Influence of perception and acculturation on dietary behaviors
Courses
Community Nutrition
Research Methods and Statistics