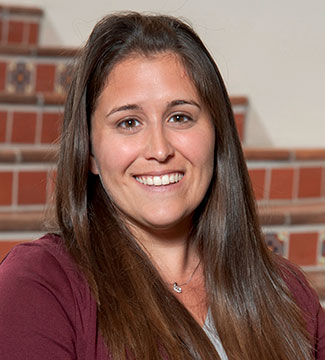 Leah Stiemsma
Assistant Professor of Biology
Natural Science Division
, Seaver College
RAC 132
Biography
Dr. Stiemsma has expertise in microbiology, microbial ecology, and the role of the human microbiome in non-communicable diseases. Her PhD dissertation focused on the role of the intestinal microbiome in childhood asthma and atopic disease. As a postdoctoral fellow at UCLA, she studied microbiome-diet interactions and worked to integrate the microbiome into human cohort studies. Dr. Stiemsma has taught workshops and guest lectured on the microbiome and its association with immune-mediated and atopic diseases at UCLA and the University of Freiburg, Germany. Her current research focus is on the human mammary tissue microbiome and its potential to serve as a biomarker for breast cancer.
Education
Postdoctoral, Epidemiology, University of California, Los Angeles. 2018

PhD, Microbiology and Immunology, The University of British Columbia, 2017.(Dissertation: Defining the role of the human intestinal microbiota in childhood asthma and atopic disease).

BS, Molecular and Cellular Biology, The University of Arizona, 2010
Stiemsma LT, Michels KB. The role of the microbiome in the developmental origins of health and disease. Pediatrics. 2018;141(4). doi:10.1542/peds.2017-2437.
Arrieta MC, Arevalo A, Stiemsma LT, Dimitriu PA, Chico M, Loor S, Vaca M, et al. Associations between infant fungal and bacterial dysbiosis and childhood atopic wheeze in a nonindustrialized setting. J Allergy Clin Immunol. 2018 Aug;142(2):424-434.
Stiemsma LT, Turvey SE, Asthma and the microbiome: defining the critical window in early life. Allergy Asthma Clin Immunol. 2017;13:3.
Stiemsma LT, Arrieta MC, Dimitriu PA, Cheng J, Thorson L, Lefebvre DL, et al. Shifts in Lachnospira and Clostridium sp. in the stool microbiome at 3 months of age are associated with preschool age asthma. Clin Sci (Lond). 2016;(23) 2199-2207.
Arrieta MC*, Stiemsma LT*, Dimitriu PA, Thorson L, Russell S, Yurist-Doutsch S, et al. Early infancy microbial and metabolic alterations in children affect risk of asthma. Sci Transl Med. 2015;7(307):307ra152. PMID 26424567. *Denotes equal contribution.
Stiemsma LT, Reynolds LA, Turvey SE, Finlay BB. The hygiene hypothesis: current perspectives and future therapies. Immunotargets Ther. 2015;4:143-57. PMC4918254.
T-32 Postdoctoral Fellowship. National Cancer Institute, National Institutes of Health; 2017 – 2018.
UBC Four-Year Fellowship. University of British Columbia; 2014 – 2016.
First prize at the GenomeBC Poster Competition. GenomeBC; 2016.
AllerGen Travel Award. AllerGen NCE; 2015 & 2016.
Robert Emmanuel & Mary Day Travel Award. University of British Columbia; 2015.
Stiemsma, LT et al. Early life gut microbial alterations in children diagnosed with asthma by three years of age. Abstract, Oral presentation, & E-poster; ERS International Congress. Amsterdam, ND; 2015.
Breakthrough Fellowship Award. Department of Defense Breast Cancer Research Program, 2018 - 2021.
Topics
Host-microbe interactions
The human microbiome in association with disease
Courses
Microbiology
Application of genomic strategies in human and microbial diversity
Cell Biology
Genetics