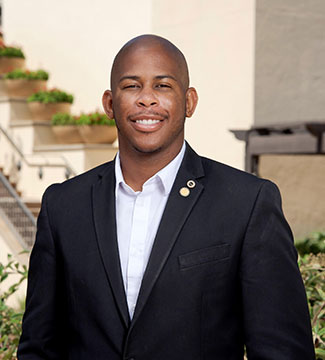 Kendrick Roberson
Assistant Professor of Political Science
Social Science
, Seaver College
PLC 116
Biography
Kendrick Roberson is currently a visiting professor at Pepperdine University, where he teaches political science courses centered around American Politics. Prior to this position, Kendrick was an adjunct faculty at Pepperdine since Fall of 2020. He was also a visiting lecturer at UCLA, where he taught a course on Black Labor Activism. Finally, he was a visiting lecturer at Cal State Long Beach, where he taught a course on Race and Ethnic Politics.
Early in his career, Kendrick attained an associate's degree in the field of economics from El Camino Community College. During his time at El Camino College, Kendrick was a winner in a nationwide competition hosted by NASA and began nine years of work estimating the costs of satellite systems at the Los Angeles Air Force Base, Space and Missile Systems Center. In 2013, after transferring to Pepperdine for his undergraduate career, Kendrick achieved his bachelor's degree in economics, and was accepted into Pepperdine's business school. Kendrick finished his time at Pepperdine by delivering the student address during his master's graduation ceremony, ultimately receiving his master's degree in Finance.
In 2021, he received his second and third master's degrees in economics and political science from the University of Southern California (USC), and is on the road to attaining his PhD in political science and international relations from there as well. Outside of academia, Kendrick is currently the elected Chair of the American Federation of Employees' (AFGE) National YOUNG Committee, where he represents over 100,000 federal employees across the nation who are under the age of 40. He is also the elected Chair of the City of Carson's only Rent Control Board.
Education
PhD, Political Science and International Relations, USC, anticipated 2024
MA Political Science, USC, 2021
MS Applied Economics and Econometrics, USC, 2021
MS Applied Finance, Pepperdine University, 2014
BA Economics, Pepperdine University, 2013
AA Economics, El Camino College, 2011
Areas of Expertise
American Politics
Race and Ethnic Politics
Courses
American People and Politics
Who Has the Power in America