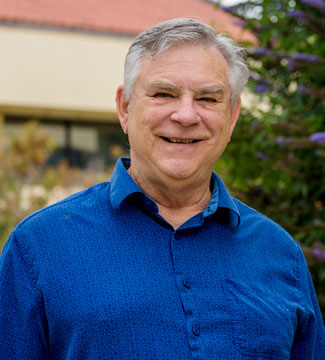 Ken Waters
Professor of Journalism
Communication Division
, Seaver College
CCB 145
Education
PhD, Communication, University of Southern California, 1982
MA, Religion and Communication Theory, Pepperdine University, 1976
BA, Journalism and History, George Pepperdine College, 1972
With Elizabeth R. Smith. "Promoting Co-curricular Learning Success to Emphasize Student Learning, Strengthen On-Campus Credibility and Help Recruit Students," Journal of Christian Teaching Practice, Spring/Summer 2018.
"Alexander Campbell: Crusading for Pacifism and Abolition in a Time of War and Slavery," in Robert Woods and Naaman Wood, editors, Words and Witnesses: Communication Studies in Christian Thought from Athanasius to Desmond Tutu. (NYC: Henrickson Press), 2018.
"Motivations for Reading the Left Behind Book Series: A Uses and Gratifications Analysis," fourth author with Robert H. Woods, Jr., Kelly Skarrit-Williams, Caleb Chan and Divine Agodzo. Journal of Media and Religion. 15:2, May 2016.

"Religious Magazines: Keeping the Faith," (chapter) The Routledge Handbook of Magazine Research: The Future of the Magazine Form, Edited by David Abrahamson and Marcia R. Prior-Miller, (New York: Routledge), 2015.

"Evangelical Magazines," in Robert Woods, Jr., ed. Evangelicals and Popular Culture, Vol. 3. (Westport, CT: Praeger Publishing), 2012.
"Evangelical Periodicals," in Diane Winston, ed. The Oxford Handbook of Religion and News Media, (New York: Oxford University Press), 2012.
"Pursuing New Periodicals in Print and Online," in Quentin J. Schultze and Robert H. Woods Jr., editors, Understanding Evangelical Media: The Changing Face of Christian Communication (Downers Grove, IL: InterVarsity Press), 2008.
"Influencing the Message: The Role of Catholic Missionaries in Media Coverage of the Nigerian Civil War," The Catholic Historical Review, XC(4), October 2004. Research in the U.K. and Ireland funded by Dean's Research Grant.
Vibrant, but Invisible: A Study of Contemporary Religious Periodicals. Journalism and Mass Communication Quarterly, 78:2. Summer 2001
Advocacy, Objectivity, Editorial Freedom and Journalistic Quality: A Study of Issues in the Protestant Press, Christian Scholar's Review. Fall 2001.
"Competing Moral Visions Within the Religious Press: The Ethical Debate Over the Stealth Bible," Journal of Mass Media Ethics, 16:1. Spring 2001.
(With Students Taryn Lynd and Tara Ward) "Ethics and Community Journalism: An Analysis of the Exclusionary Editorial Policies of the Gazette Newspapers," Newspaper Research Journal. Fall 2001.
"Who Are Those Guys?: The Promise Keepers' Media Relations Strategy for 'Stand in the Gap,'" in Dane Claussen, editor, Good News, or Dupes and Reactionaries?: The Promise Keepers, (Jefferson, NC: McFarland Publishing Co.), 1999.
How World Vision Rose From Obscurity to Prominence: Television Fundraising, 1972-1982, American Journalism, 15:4 (Fall 1998).
Christian Journalism's Finest Hour? An Analysis of the Failure of the National Courier and Inspiration. Journalism History, 20:2. Summer 1994.
Blanche E. Seaver Professor of Communication, 2006-2011
Visiting professor at Pepperdine campuses in London (1994-1995, 2018-2019 academic year and 2002 summer) and Lausanne, Switzerland (2009-2010 academic year).
Director of Student Journalism (2007-2009)
Articles and columns on a variety of religious, cultural and travel topics published in more than 50 national and regional magazines and newspapers.
Topics
Communication tactics of international humanitarian agencies.
How Christian periodicals help readers form their personal identities
Influences of religious media on mainstream culture
Courses
Communication Ethics
Intercultural Communication
Public Speaking and Rhetorical Analysis
Communication Theory
Media Worldwide
Links