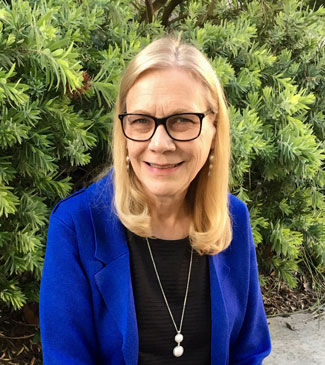 Julianne Smith
Professor of English
Humanities/Teacher Education Division
, Seaver College
CAC 208
Education
PhD, Texas Christian University, 1999
MA, Abilene Christian University, 1985
BA, Abilene Christian University, 1981
(Forthcoming) "Framing and Staging Hands (and Feet) in Bleak House." The Embodied Hand: Nineteenth-Century Manual Culture, edited by Peter Capuano and Sue Zemka, Ohio State UP, 2019.
(Forthcoming) "The Devil and Miss Corelli: The Sorrows of Satan." Marie Corelli: Woman, Warrior, Writer, edited by Brenda Ayres and Sarah Maier, Anthem Press, 2019.
"Teaching the 'Forgotten' Genre: Victorian Drama." Teaching Victorian Literature in the 21st Century: A Guide to Pedagogy. Eds. Jen Cadwallader & Larry Mazzeno. Palgrave Macmillian, 2017. 167-79.
"J.P. Burnett's Bleak House: A Drama in Three Acts." Streaky Bacon: A Guide to Victorian Adaptations. Eds. P.C. Fleming et al 4 February 2016
"Bleak House on London's East End Stage, 1853: George Dibdin Pitt and Dickens at the Royal Pavilion Theatre." Nineteenth-Century Theatre & Film 42.1 (2014): 2-20.
"Victorian Drama in the 1850s and the Transformation of Literary Consciousness." Victorian Transformations. Ed. Bianca Tredennick. Farnham, U.K.: Ashgate, 2011. 79-94.
Modern Language Association
North American Victorian Studies Association
19CTC (The Nineteenth-Century Theatre Caucus)
Research Society for Victorian Periodicals
Victorian Interdisciplinary Studies Association of the Western United States
National Council of Teachers of English
Innovative Teaching Award, Center for Teaching & Learning, Pepperdine University, 2004
Dean's Research Grant, Pepperdine University, 2014-2018
Topics
19th-Century Religious & Visual Rhetoric
Gender & Religion
Representation in Victorian Art
Victorian Theatre
Victorian Women Writers
Courses
Victorian Novel
Victorian Poetry
Modern Drama
Poetry & Poetics
Arthurian Literature
World Literature
Survey of British Literature
Research & Writing in the English Major