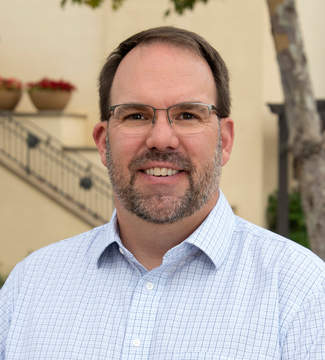 Joseph Fritsch
Professor of Chemistry
Natural Science Division
, Seaver College
RAC 108
Biography
Joe Fritsch is a professor of chemistry in the Natural Science Division at Pepperdine University in Malibu, CA. Prior to joining the faculty in 2006, he earned his PhD from the University of Minnesota in environmental inorganic chemistry after graduating with a BS degree from Hope College (Holland, MI). As a faculty member, Dr. Fritsch is regular teacher of General Chemistry and Inorganic Chemistry, and his research interests are focused on the synthesis of inorganic complexes that make biodegradable polymers. He has mentored over 20 students in research resulting in conference presentations, honors theses and published papers with undergraduate co-authors.
Education
PhD, Chemistry, University of Minnesota, 2006
BS, Chemistry, Hope College, 1997
Schmitz, L.A.*, McCollum, A.M.*, Rheingold, A.L., Green, D.B., Fritsch, J.M. "Synthesis and structures of aluminum ion-pair complexes that act as L-lactide ring opening polymerization initiators." Polyhedron, 2018, 147, 94-105.
Gerling, K.A.*, Rezayee, N.m.*, Rheingold, A.L., Green D.B., Fritsch, J.M. "Synthesis and Structures of Bis-Ligated Zinc Complexes that Initiate L-lactide Ring Opening Polymerization." Dalton Transactions, 2014, 43 (43), 16498-16508.
Schmitz, L.A.*, Gerling, K.A.*, Fritsch, J.M., Green, D.B. "Combining FTIR and the Vernier Gas Chromatograph for the Analysis of a Binary Mixture." Chemical Educator, 2014 (19), 1-4.
Affiliations:
American Chemical Society
Phi Beta Kappa
Mead Foundation Research Grant (2016-2018)
Waves of Innovation Grant (2014-2016)
Cottrell College Science Award, Research Corporation for Science Advancement (2010-2012)
Environmental Protection Agency, Predoctoral Science to Achieve Results (STAR) Fellowship
Mead Foundation Research Grant (2016-2018)
Waves of Innovation Grant (2014-2016)
Cottrell College Science Award, Research Corporation for Science Advancement (2010-2012)
Environmental Protection Agency, Predoctoral Science to Achieve Results (STAR) Fellowship
Topics
Synthesis of new inorganic complexes to act as polymerization catalysts
Homopolymers and copolymers that are biodegradable plastics
Chemical education
Courses
General Chemistry I and II (CHEM 120 and CHEM 121)
General Chemistry I and II Lab (CHEM 120L and CHEM 121L)
Inorganic Chemistry (CHEM 390)
Inorganic Chemistry Lab (CHEM 390L)