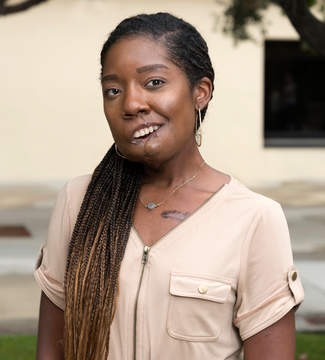 Jasmine "Jaz" Gray
Assistant Professor of Communication Studies
Communication
, Seaver College
CCB 258
Biography
Dr. Jaz Gray believes that story transforms the soul. She is a narrative researcher with expertise in entertainment and patient narratives who is interested in both how people in marginalized communities can use narrative to develop resiliency and how the media production process can be used to empower those communities. After earning a bachelor's with a concentration in Journalism from Middle Tennessee State University and a master's in Television, Radio, and Film from Syracuse University, she spent five years in Hollywood working for companies including BET and Paramount Pictures. During that time, she founded the company's first ad hoc committee to address health-related diversity among employees.
Most recently, as a doctoral fellow at UNC Chapel Hill, she developed an innovative storytelling tool called life plotting which repurposes the narrative structure and character arc underlying fictional stories for use by real people, empowering them with self-affirmation and story sharing skills to learn about themselves and share their stories with others. The conceptual paper on life plotting was selected by the Visual Communications Division at the 2020 International Communication Association Conference for one of two Top Student Paper awards. The manuscript is now in preparation. Her sole-authored piece, "Taking Center Stage in the Face of Shame and Scars," will be published in the academic textbook Redefining Disability, geared toward undergraduate students. For her academic work so far, she was awarded the 2020 Barrow Doctoral Scholarship from the Association for Education in Journalism and Mass Communication (AEJMC).
Her passion for story also motivates the way she teaches and relates to students. She looks forward to continuing to support a new, diverse generation of professionals in the communication field. She is also excited to continue centering her work in service. Her nonprofit Jaz's Jammies has collected nearly 7,000 pairs of pajamas for sick and displaced children and organized volunteer opportunities for over 2,000 people.
Education
Ph.D. Communication, University of North Carolina at Chapel Hill, 2021
Gray, J. (2021). Taking Center Stage in the Face of Shame and Scars. In P. Bones & J. Gullion (Eds.), Redefining Disability (pp. TBC). Leiden; Boston: Brill.
Top Great Ideas for Teaching Students (GIFTS) Paper, Infusing Real-World Social Issues into Research Methods Instruction, International Communication Association (ICA) conference, Instructional and Developmental Communication Division (2021)
#RAREis Scholarship Fund Award, EveryLife Foundation for Rare Diseases, Award included cash prize (2020)
Association for Education in Journalism and Mass Communication (AEJMC) Presidential Diversity and Inclusion Career Development Fellowship (2020)
Barrow Doctoral Student Scholarship, AEJMC, Award included cash prize (2020)
Areas of Expertise
Narrative Storytelling
Media Representation
Media Participation
Patient Advocacy
Disability Advocacy
Health Narratives
Health Equity and Ethics
Topics
Media Representation of Marginalized Identities
Media Participation of Marginalized Identities
Ethical Implications of Health Narratives
Intersectional Narratives of Disability/Illness
Valuing Minoritized Voices in Health
Courses
Intercultural Communication
Media Research
Communication
Communication Training and Techniques
Links