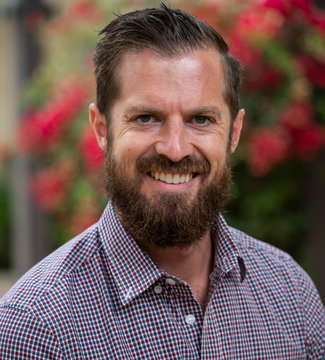 Garrett Pendergraft
Blanche E. Seaver Professor of Philosophy
Professor of Philosophy
Philosophy Program Director
Religion and Philosophy Division
, Seaver College
CAC 113
Biography
Garrett Pendergraft earned a BS in Computer Science at the University of Southern California and enjoyed a (short) career in visual effects before returning to school to study philosophy. He earned an MA from Biola University, an MA from the University of Missouri, and a PhD from the University of California, Riverside. Most of his research focuses on the metaphysics of agency, and he is particularly interested in arguing that we can have free will, and be morally responsible, even in the face of various apparent threats to our agency: causal determinism, divine foreknowledge, and situationism in psychology. (For a complete list of publications, please see his PhilPapers profile page.) In the classroom, he enjoys experimenting with various teaching methods and strategies, such as mastery learning. He has served in leadership positions in both the American Philosophical Association (Pacific Division) and the Society of Christian Philosophers (Mountain-Pacific Region). Most of his spare time is spent hanging out with some combination of his wife and three kids.
Education
PhD, University of California, Riverside, 2010
MA, University of Missouri-Columbia, 2007
BS (Computer Science), University of Southern California, 2001
Free Will and Human Agency: 50 Puzzles, Paradoxes, and Thought Experiments (Routledge, 2022).
"Toward a Reactive Attitudes Theodicy," in P. Furlong & L. Vicens (eds.), Theological Determinism: New Perspectives (Cambridge University Press, 2022).
"The Rise and Fall of WeWork," SAGE Business Cases (SAGE Publications, 2021).
"Controversy Over Gender Differences and Free Speech at Google," SAGE Business Cases (SAGE Publications, 2019).
"Freedom of the Will (Doctrine)," in K. P. Minkema and A. C. Neele (eds.), The Jonathan Edwards Encyclopedia (Eerdmans, 2017).
"Against Deliberation Restrictions," Religious Studies (2014).
"No (New) Troubles with Ockhamism" (with D. Justin Coates), Oxford Studies in Philosophy of Religion (2014).
"Does the Consequence Argument Beg the Question?" (with John Martin Fischer), Philosophical Studies 166 (2013).
"In Defense of a Causal Requirement on Explanation," in P. M. Illari, F. Russo, and J. Williamson (eds.), Causality in the Sciences

(Oxford University Press, 2011).

"The Explanatory Power of Local Miracle Compatibilism," Philosophical Studies (2011).
"Nelson Pike's Contribution to the Philosophy of Religion," Philosophia

(2011).
Blanche E. Seaver Endowed Professorship: Pepperdine University (2021–2026)

Editor's Choice Award: SAGE Business Cases, SAGE Publishing (2021)

Seaver Fellowship in Humanities: Pepperdine University (2012–2013; 2014–2015)

Essay Prize: The Science, Philosophy, and Theology of Immortality Project; University of California, Riverside (2015)

Technology and Learning Grant: Pepperdine University Grants for Faculty Innovation in Technology and Learning (2012)
Topics
Philosophy of Action
Philosophy of Religion
Metaphysics
Courses
Introduction to Philosophy
Logic
Western Civilization (1815–present)
Business Ethics
Metaphysics
Free Will and Moral Responsibility (senior capstone seminar)