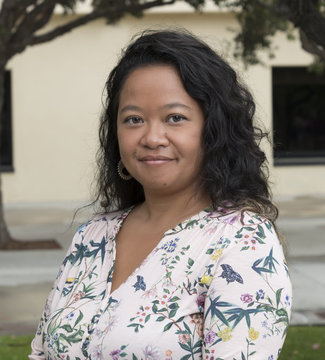 Florybeth La Valle
Assistant Professor of Biology
Natural Science
, Seaver College
RAC 122
Biography
Dr. Florybeth (Flo) La Valle is a biology professor in the Natural Sciences Division of Seaver College at Pepperdine University in Malibu, CA. She holds a PhD in marine biology from the University of Hawai'i at Manoa. She graduated as valedictorian of her undergraduate class at Iona College with a degree in environmental science and chemistry. Although she has spent the majority of her life living in major cities, she has always been driven by her curiosity about the natural world.
Prior to her career as a coastal community ecologist, Dr. La Valle was a middle school science teacher in New York, where she cultivated a passion for teaching. Dr. La Valle is equally passionate for her research interests which span: effects of urbanization and development on coastal communities, coral reef ecology, effectiveness of marine protected areas, intertidal ecology, sustainable and equitable coastal practices, marine resource management, and data science. Her research has been supported by the National Science Foundation, HI Sea Grant, CA Sea Grant, and the Ocean Protection Council. Dr. La Valle's lab members can often be found both frolicking and struggling in the ocean, analyzing data in the lab, and practicing how to communicate their science to a wide range of audiences.
Education
PhD Marine Biology, University of Hawai'i at Manoa, 2018
La Valle FF, Kantar M, Nelson CE. (2020) Coral reef benthic community structure is associated with the spatiotemporal dynamics of submarine groundwater discharge chemistry. Limnology & Oceanography. 9999, 1–13. https:// doi: 10.1002/lno.11596
La Valle FF, Schaefer J, Cox TE, Philippoff J. (2020) Spatial and temporal longitudinal assessment of Hawaii's intertidal communities. Hydrobiologia. https://doi.org/10.1007/s10750-020-04336-5
La Valle FF, Thomas FIM, Nelson CE. (2019) Macroalgal biomass, growth rates and diversity are influenced by submarine groundwater discharge and local hydrodynamics in tropical reefs. Marine Ecological Progress Series 261: 51-67.
La Valle FF, Camvel DAK, Thomas FIM, Aikau HK, Lemus JD. (2019) Interdisciplinary research through a shared lexicon: Merging Hawaiian traditional customary and contemporary practices and western science to examine characteristics of water. Hūlili Vol. 11.
Foster A, Spalding HL, Cox TE, La Valle FF, & Philippoff J. (2019) Invasive green algae Avrainvillea sp. transforms native epifauna and algal communities on a hard substrate reef. Phycological Research 67(2): 164–169.
Nelson CE, Donahue MJ, Dulaiova H, Goldberg SJ, La Valle FF, Lubarsky K, Miyano J, Richardson C, Silbiger NJ, Thomas FIM. (2015) Fluorescent dissolved organic matter as a multivariate biogeochemical tracer of submarine groundwater discharge in coral reef ecosystems. Marine Chemistry 177(2): 232–243.
Boylan J, La Valle FF, Kang Y. (2009) Determination of genetic relationships among populations of Asclepias tuberose (Asclepiadacceae) based on ISSR polymorphisms. BIOS 80:25–34.
Iona College Valedictorian, 2005
Courses
BIOL 105 Introduction to Marine Biology
BIOL 311 Ecology
BIOL 405 Marine Biology and Ecology
MATH 317 Research Methods