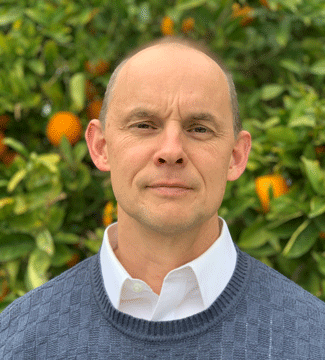 David M. Strong
Professor of Mathematics
Natural Science Division
, Seaver College
RAC 116
Education
PhD in Applied Mathematics, University of California Los Angeles, 1997
MS in Applied Mathematics, University of California Los Angeles, 1994
BS in Mathematics, Brigham Young University, 1992, Summa Cum Laude Distinction
K. Anderson, A. Burt, W. Cousins, B. Hancock, D. Strong. "A Sinkhorn-Knopp Fixed Point Problem," Pi Mu Epsilon Journal, to appear.
D. Strong, J.-F. Aujol, T. Chan. "Scale recognition, regularization parameter selection, and Meyer's G norm in total variation regularization," Multiscale Modeling and Simulation, Vol. 5 (2006), pp. 273 -303.
D. Strong. "An Applet and On-line Tutorial for the Jacobi, Gauss-Seidel and SOR Methods," Journal of Online Mathematics and its Applications, Vol. 5 (2005).
D. Strong and T. Chan, "Edge-preserving and Scale-dependent Properties of Total Variation Regularization," Inverse Problems, Vol. 19 (2003), pp. 165 -187.
D. Strong, "Why it Might Seem That Christmas is Coming Early This Year," The College Mathematics Journal, Vol. 32 (2001), pp. 376 - 377.
Tooma Grant for Undergraduate Research, 2010
National Science Foundation CURM Grant for Undergraduate Research, 2008 - 2009
Pepperdine Research Fellow, Multiple years
Pepperdine Dean's Research Fund, Multiple years
MAA Project NExT Mentor for New Math Faculty, 2000-2001
UCLA Department of Mathematics Distinguished Teaching Award, 1999
GAANN Graduate Fellowship, 1992 - 1997
Valedictorian, BYU College of Physical and Mathematical Sciences, 1992
Society Member: SIAM (Society for Industrial and Applied Mathematics), MAA (Mathematical Association of America), AMS (American Mathematical Society)
National Committee Member: MAA Committee on Undergraduate Research
Topics
Creation and Effective Use of Mathematical Software
Image Processing
Undergraduate Research
Numerical Linear Algebra
Courses
Linear Algebra
Numerical Analysis
Differential Equations
Mathematics for Business Students
Links