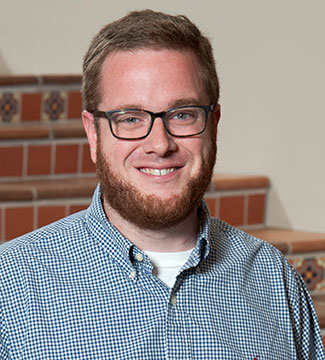 Daniel Overton
Associate Professor of Communication
Communication Division
, Seaver College
CCB 260
Biography
After graduating from Freed-Hardeman University, Daniel worked as a full-time congregational minister for a church plant near Memphis, TN for nearly six years, and he earned a Master of Divinity and Master of Arts in Historical Theology from the Harding School of Theology during that time. He completed his Doctor of Philosophy in Communication Studies at the University of Kansas, specializing in rhetoric. Prior to joining the Seaver College faculty at Pepperdine in 2018, he served as assistant professor for his alma mater Freed-Hardeman in his home state of Tennessee. Currently, he teaches courses focusing on rhetoric, leadership, ethics, and public speaking. As a historian and critic of American public address, Daniel's research focuses on the use of constitutive and prophetic rhetorics in a variety of activist, political, and ecclesial contexts. He is married to Elaine, and together they have two mostly delightful daughters and one dog.
Education
PhD, Communication Studies: Rhetoric, University of Kansas
MA, Historical Theology, Harding School of Theology
MDiv, Harding School of Theology
BA, Freed-Hardeman University
Overton, Daniel. "The Greatest Hero of the Great War: Alvin C. York as a Rhetorical Creation," in Reframing Rhetorical History, Edited by Kathleen Turner and Jason Black (Tuscaloosa: University of Alabama, 2021).

Overton, Daniel. "Locating Utopia in Populism: Considering Progressive Populism, Utopian Rhetoric, and the Populist Argumentative Frame," in Local Theories of Argument, Edited by Dale Hample (New York: Routledge, 2021).

Overton, Daniel. "A Kingdom Not of This World: John T. Lewis's Defense of Christian Nonviolence during the Second World War," Restoration Quarterly 61, no. 1 (2021).

Overton, Daniel. "Singing through Clenched Teeth: Psalm 137 and the Imprecatory Psalms as Traumatic Liturgy," Journal of Communication and Religion 43, no. 2 (2020).

Overton, Daniel. "The Consequences of Liberty: Barton W. Stone's Democratized Rhetoric and Hermeneutics," Rhetorica 38, no. 3 (2020).

Overton, Daniel. "Explosion of Meaning: The Complexity of Context and Language." In Communication in the Classroom: A Collection of Great Ideas for Teaching Students. Edited by John S. Seiter, Jennifer Peeples, and Matthew L. Sanders, 199-202. Boston: Bedford/St. Martin's, 2018.
Overton, Daniel. "How to Build an Army: The Constitutive Utopian Rhetoric of Julius Wayland in the Appeal to Reason." PhD Diss., University of Kansas, 2017.
Editorial Board, Western Journal of Communication, 2018-Present
Robert N. Bostrom Young Scholar Award, Southern States Communication Association, 2016
E.C. Buehler Award and Fellowship for Outstanding Teaching, University of Kansas, 2015
Academic Awards for ranking first in class during M.Div. and M.A. programs, Harding School of Theology, 2014
Overton, Daniel. "Pacifism after Pearl Harbor: Foy E. Wallace Jr. Changes His Mind," paper presented at the Christian Scholars Conference, Nashville, TN, June 2018.
Overton, Daniel. "What Has Montgomery to Do with Vietnam?: The Prophetic Call Form as a Rhetorical Resource in King's 'Beyond Vietnam' Address," paper presented at the Southern States Communication Association Conference, Nashville, TN, April 2018. (Awarded Top Paper History of Rhetoric Division)
Overton, Daniel. "Alvin York as a Rhetorically Muted Figure," paper presented at Remembering Muted Voices Symposium, National World War One Museum and Memorial, Kansas City, MO, October 2017.
Overton, Daniel. "How to Build an Army: The Constitution of Julius Wayland's Militant Counterpublic," paper presented at Biennial Rhetoric Society of America Conference, Atlanta, GA, May 2016.
Topics
Rhetoric
Public Speaking
Rhetorical Leadership
Hermeneutics
American Civil Rights Movement
American Christianity
Ethics