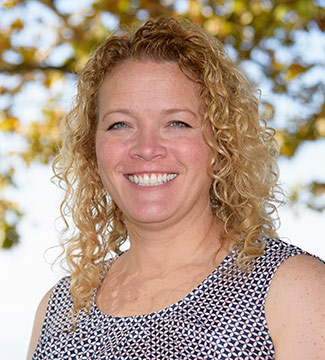 Cari Myers
Assistant Professor of Teaching of Religion
Religion and Philosophy Division
, Seaver College
APC 253
Biography
Cari Myers earned her Ph.D. in religious and theological studies at the Iliff School of Theology at the University of Denver with a dissertation entitled "How to Make It Here: A Qualitative Study on Generational Narratives of Survival and Success Among Latinx and White Evangelical Communities Along the US/ Mexico Border." This project focuses on how Latinx and white young adults negotiate life on the U.S./ Mexico border, especially in the context of the colonized classroom and the evangelical Christian church.

She earned an MTS from Brite Divinity at TCU, an MS in ministry from ACU, and a BA in English from Pepperdine University. With a focus on christian ethics and practical theology, Dr. Myers has taught classes on faith and culture, ministry, public theology, and Christian scripture at Pepperdine, Abilene Christian University, and the University of Denver. Her teaching and research interests include the relationship between religion and social change, young adult faith and vocation development, and evangelical ethics. Dr. Myers has presented papers at both the American Academy of Religion and the Society of Christian Ethics, as well as the Gaede Institute and the Christian Scholars Conference.
Education
PhD, Religious and Theological Studies, Iliff School of Theology, University of Denver
Master of Theological Studies, Brite Divinity at Texas Christian University
Master of Science, Ministry, Abilene Christian University
Bachelor of Arts, English, Pepperdine University
Book Chapters:
2019 "The Problem of Violence in Scorsese's Films: A Girardian Reading." In Scorsese as Theologian, Edited by Christopher B. Barnett and Clark J. Elliston. Boston: Brill Publishers.
2016 "Bringing in the Outsider: Hospitality in the Way of Jesus." In The Ongoing, Transformative, Spiritual Journey of Adolescent Disciples: A Guide for Parents and Friends of Youth, Edited by Dudley Chancey and Ron Bruner. Abilene, TX: ACU Press.
Refereed Journal Articles:
Book Review:
2020 Review of Hope and Christians Ethics: New Studies in Christian Ethics by David Elliot, Journal of Society of Christian Ethics. Vol. 40, No. 1.
Member, American Academy of Religion
Member, Society of Christian Ethics
Member, Association of Practical Theology
2016 IRISE, the Interdisciplinary Research Incubator for the Study of (In)Equality, University of Denver
2013 Wally Wilkerson Legacy Award, National Conference on Youth Ministry
2012 The Baxter F&W Dell Thomas Excellence Award for Christian Ministry, Brite Divinity School, Texas Christian University
2008 Lighthouse Award, National Conference on Youth Ministry
2020 Co-authored with Kindalee DeLong and Roshawnda Derrick, "An analysis of Pepperdine's Seaver College faculty participation in SEED," Gaede Institute Annual Conference: The Conversation on the Liberal Arts, February 27-29, Westmont College, Santa Barbara, CA
2020 "The Hermeneutical Circle of Ethics as Qualitative Methodology: An Attempt to Decolonize the Gaze of the White Researcher" Society of Christian Ethics, January 9-12, Washington, D.C.
2019 "Resistance Narratives: The Religious and Spiritual Development of Evangelical Youth," American Academy of Religion, Western Region, March 2-3, Arizona State University
2017 "Buffalo Bill's Wild West Show at The Intersection of Race, Gender, and Class," American Academy of Religion, Western Region, March 17-19, Rosemead, CA
2013 "Hagar at Woman Hollering Creek: The Voice of Women in Threefold Exile," American Academy of Religion, Nov. 23-26, Baltimore, MD
2013 "The Moral Agency of Youth," Summit, Abilene Christian University, Sept. 15-18, Abilene, TX
Topics
Christian Ethics
Postcolonial Theory
Adolescent Spiritual Development
Religion and Social Change
Courses
REL 301: Christianity and Culture: Introduction to Christian Ethics
REL 301: Christianity and Culture: Identity and Power in Just Society
REL 102: New Testament in Context
REL 595: Ministry Field Work
REL 599: Directed Study: Theology of Play