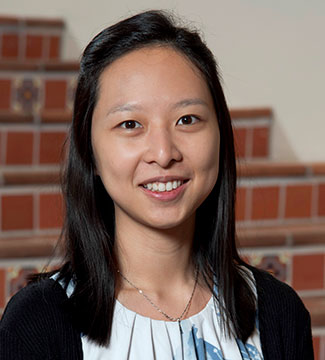 Alyssa Sui Jing Ong
Assistant Professor of Accounting
Business Administration Division
, Seaver College
CCB 315
Biography
Dr. Alyssa Ong received her PhD from West Virginia University. Her dissertation was titled "Perpetrators vs. Auditors: Factors that Influence the Occurrence of Fraud and Audit Interventions". She is also a Certified Fraud Examiner. Dr. Ong was the top prize winner for the Ritchie-Jennings Memorial Scholarship awarded by the Association of Certified Fraud Examiners in 2017. Merging her interests in forensic accounting, fraud examination, and psychology, her research areas focus on interventions that auditors, as well as managers of companies, can implement to deter employees from engaging in those fraudulent behaviors and whistleblowing.
Dr. Ong has been actively involved in the Forensic Accounting (FA) section of the American Accounting Association. She was the Education Committee Chair for the section and is the Program Chair for the section's 2024 midyear meeting. She also serves as an Associate Editor of the Journal of Forensic Accounting Research.
Education
PhD in Accounting, West Virginia University, 2018
BSB in Accounting and Finance, University of Kansas, 2014
Publications:
Ong, A., Geng, X. 2023. An Investigation of Fraud Choice and Group Membership on Whistleblowing Decisions. Journal of Forensic Accounting Research.
Scheetz, A., Adikaram, R., Ong, A. 2023. Confronting Bias in Whistleblowing: How Race, Gender, and Marital Status Intersect in the Reporting of Unethical Conduct. Journal of Forensic Accounting Research.
Holderness Jr, D. K., Ong, A., Zimbelman, M. 2022. The Effects of First Impressions and Supervisor Preference on Auditors' Risk Assessments. Journal of Forensic Accounting Research.
Ong, A. 2022. Act First Think Later or Think First Act Later: Does the Fraud Triangle Hold when Individuals are Impulsive? Journal of Forensic and Investigative Accounting.
In Progress:
Ong, A., Holderness Jr. D.K., Fleming, A.S., "Changing the Nature of Audit Procedures to Deter Fraud"

Geng, X., Fleming, A.S., Ong, A. "When Feelings Matter: The Interaction of Affect and Peer Influence on Budgetary Slack"

Papakroni, E., Ong, A. "Fraud Characteristics and SEC Enforcements Against Independent Auditors"
Aizenberg, D., Ong, A., Geng, X. "Are Breaks Aways Helpful? The Interaction of Work Breaks and Working Memory Capacity on Managerial Accounting Task Performance"
2022 American Accounting Association Forensic Section Meeting "Best Paper Award" for "An Investigation of Fraud Choice and Group Membership on Whistleblowing Decisions"
2020 American Accounting Association Forensic Section Meeting "Best Paper Award" for "Changing the Nature of Audit Procedures to Deter Fraud"
KU Woman of Distinction, 2013-2014
Ritchie-Jennings Memorial Scholarship (Top Award), 2017-2018
United Bank Shares Scholar, 2014-2016
KU-IIE Scholar, 2011-2014
Academic and Professional Affiliations
American Accounting Association
Association of Certified Fraud Examiners
Beta Gamma Sigma
Beta Alpha Psi
Mortar Board Honors Society
Topics
Fraud detection
Fraud deterrence
Auditor judgment and decision making
Courses
AC 224 Financial Accounting
AC 310 Intermediate Accounting I
AC 311 Intermediate Accounting II
AC 313 Cost Analysis
AC 314 Advanced Cost Analysis and Systems
AC 425 Auditing