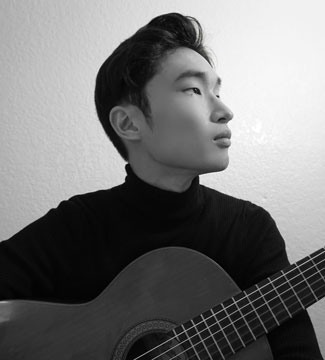 Alexander Park
Adjunct Professor of Music (Guitar)
Fine Arts
, Seaver College
Biography
Alex Park is an artist, international concert guitarist, and educator. He has played concerts throughout the United States, Canada, and Europe. Alex has received numerous awards including first place in the Thomas M. Osborn Concerto Competition. He was also a prizewinner for the Parkening International Guitar Competition, Philadelphia Classical Guitar Competition, Miami GuitArt International Competition, and Lee Ritenour's Six String Theory Competition. He is also a recipient of the USC Thornton Ensemble Award as a member of the Park Brothers Guitar Duo with his brother Wesley. In 2019, Alex released his debut album, Classical Guitar, and has received positive reviews from critics and press. Classical Guitar Magazine wrote the album is "Fantastic!" and Fanfare wrote, "a winning combination of technical assurance, versatility, and interpretive finesse."
Alex received his Bachelor of Arts degree from Pepperdine University studying under Christopher Parkening, and received his Master of Music degree from California State University Fullerton studying under Andrew York. He is currently attending the University of Southern California to pursue his Doctor of Musical Arts degree studying under Scott Tennant and Adam del Monte.
In addition to the classical guitar, Alex has worked on film and media projects as a session guitarist and film composer. Most notably, he recorded on the guitar for the soundtrack of Lew Wallace: Shiloh Soldier, Ben Hur Bard, an Emmy Award winning documentary in the Musical Composition/Arrangement category. Alex uses and is endorsed by Augustine Strings.
Education
MM, California State University Fullerton, 2018
BA, Pepperdine University, 2015