Meet the Faculty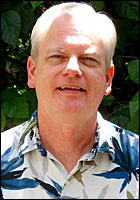 Stephen F. Parmelee
Associate Professor of English and Film Studies
Division: Humanities/Teacher Education Division
Office: Cultural Arts Center (CAC) 106
Phone: (310) 506-4017
E-mail: stephen.parmelee@pepperdine.edu

Ph.D., English, Claremont Graduate University, 2006
M.A., English, Pepperdine University, 1983
B.A., Art, Pepperdine University, 1974
Courses:
Los Angeles Literature and Film
English for International Students
Introduction to Literature
English Composition
Crime in Literature and Film
African-American Cinema
The History of the American Cinema
Great American Directors
British, French, and German Film
Rebels and Causes: The 1950s and Film
You Say You Want a Revolution: The 1960s and Film
Senior Project in Film Studies
Religion and Film
Internship in Film Studies
Key Awards/Affiliations:
Society for Cinema and Media Studies
Member, Modern Language Association
Academic Interests:
American cinema history
Film genres (film noir, the French gangster film, the Western)
Historical and popular cultures of Southern California in general and of Los Angeles in particular.
Selected Works:
"'Such Inexplicable Pain': Kon Ichikawa's The Burmese Harp." Christian Scholar's Review XL:4 (Summer 2011): 393-405.
"Dillwyn Parrish, Praise the Lord!, and Religious Fervor in Southern California in the 1930s." Christianity & Literature (61:1), Autumn 2011.
Writing substantial portions of and editing Pepperdine's self-study for accreditation with the Western Association of Schools and Colleges
"The Dilemma of the Christian Scholar." Part of seminar entitled "A Christian World View in the Classroom: What Does It Mean?" May 1993
Trouble in Paradise: Nine Southern California Novels, 1927-1940 (dissertation)
"Remembrance of Films Past: Film Posters on Film." Historical Journal of Film, Radio and Television 29:2 (June 2009): 181-196.