Meet the Faculty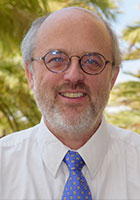 Philip Freeman, Ph.D.
Fletcher Jones Chair of Western Culture
Division: Humanities/Teacher Education Division
Office: Thornton Administrative Center (TAC) 201 H
Phone: (310) 506-6545
E-mail: philip.freeman@pepperdine.edu

Ph.D., Harvard University, 1994
Dr. Freeman completed his undergraduate work in classics and humanities at the University of Texas and earned a joint Ph.D. in classics and Celtic studies from Harvard University. Previously, he has taught at Boston University, Washington University, and Luther College. Dr. Freeman is the author of a number of books on ancient and medieval studies, including biographies of St. Patrick, Julius Caesar, and Sappho, as well as translations of the works of Cicero.
Key Awards/Affiliations:
Loeb Classical Library Foundation Fellowship, 2010
American Academy of Religion Research Grant
National Endowment for the Humanities Enduring Questions Grant
National Endowment for the Humanities Summer Stipend
Friends of Princeton University Library Visiting Fellowship
Kemper Faculty Grant to Improve Learning
Lilly Foundation Teaching Fellowship
American Philosophical Society Research Grant
Academic Interests:
Selected Works:
How to Be a Friend by Marcus Cicero, 2018
Celtic Mythology, 2017
How to Grow Old by Marcus Cicero, 2016
Searching for Sappho, 2016
The World of Saint Patrick, 2014
How to Run a Country by Marcus Cicero, 2013
How to Win an Election by Quintus Cicero, 2012
Heroes of Olympus, 2012
Oh My Gods: A Modern Retelling of Greek and Roman Myths, 2012
Alexander the Great, 2011
Lecture Notes: A Professional's Inside Guide to College Success, 2010
A Transcription of the Latin Writings of St. Patrick from Seven Medieval Manuscripts, 2009
Julius Caesar, 2008
The Philosopher and the Druids: A Journey Among the Ancient Celts, 2006
Saint Patrick of Ireland, 2004
War, Women, and Druids: Eyewitness Reports and Early Accounts of the Ancient Celts, 2002
The Galatian Language, 2001
Ireland and the Classical World, 2001
Selected Links: