Meet the Faculty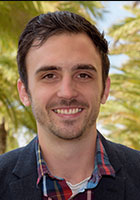 Nicholas Cumming, Ph.D.
Visiting Assistant Professor of Religion
Division: Religion and Philosophy Division
Office: Appleby Center (APC) 254
Phone: (310) 506-7729
E-mail: nicholas.cumming@pepperdine.edu

Ph.D., Theology and Religious Studies, King's College London, 2016, Dissertation passed with "No Corrections"
Dr. Cumming earned his Ph.D. in theology and religious studies at King's College London with his dissertation entitled "The Life of Francis Turretin and His Impact on the Protestant Reformed Tradition." He earned his M.Div., M.S. in ministry and his B.A. in television production at Pepperdine University. Trained in both theology and history, Dr. Cumming has taught classes on faith and culture, the Hebrew Bible, and church history at Pepperdine University, Lipscomb University, King's College London, and Quinnipiac University. His research explores the history and theology of early modern Europe and America, particularly the influence of late-Medieval scholasticism in Protestant theology. Dr. Cumming has presented papers at the American Society of Church History, the Reformation Research Consortium, and the Institute of Historical Research. He has contributed to De Gruyter's "Encyclopedia of the Bible and Its Reception," and his dissertation is a forthcoming monograph in Brill's "St. Andrew's Studies in Reformation History."
Courses:
Old Testament in Context
Religious History of the American Revolution
Key Awards/Affiliations:
Research Grant, 2014 & 2016
Academic Interests:
Church history
Historical theology
Reformed theology
Systematic theology
Selected Works:
The Life of Francis Turreting (1623-87) and His Impact on the Protestant Reformed Tradition