Meet the Faculty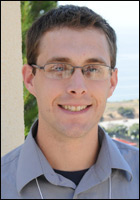 Matt Joyner
Assistant Professor of Biochemistry
Division: Natural Science Division
Office: Rockwell Academic Center (RAC) 122
Phone: (310) 506-4921
E-mail: matt.joyner@pepperdine.edu

Ph.D., Chemistry and Biochemistry, University of Oklahoma, 2010
B.S. Chemistry, B.S. Mathematics, Lubbock Christian University, 2005
Courses:
Cellular Biochemistry (CHEM 330)
Advanced Cellular Biochemistry (CHEM 331)
Key Awards/Affiliations:
American Chemical Society
American Society of Pharmacognosy
Academic Interests:
Chemistry and biochemisty of natural products
Chemistry of traditional Native American medicinal plants
Drug discovery using natural products
Selected Works:
Allison, Brittany J.8; Allenby, Mark C.*; Bryant, Shane S.*; Min, Jae Eun*; Hieromnimon, M.*; Joyner, P. Matthew. Comparison of the In Vitro Bioactivity of a Panel of Indigenous American Medical Plants and Identification of Antibacterial Flavonoids from Artemisia Californica. Natural Product Research 2016, 31, 707-712.
Joyner, P. Matthew; Cichewicz, Robert H. Bringing Natural Products into the Fold -- Exploring the Therapeutic Lead Potential of Secondary Metabolites for the Treatment of Protein-Misfolding-Related Neurodegenerative Diseases. Natural Product Reports 2011, 28, 26-47
Joyner, P. Matthew; Liu, Jinman; Zhang, Zhijun; Merritt, Justin; Qi, Fengxia; Cichewicz, Robert H. Mutanobactin A from the Human Oral Pathogen Streptococcus Mutans is a Cross-Kingdom Regulator of the Yeast-Mycelium Transition. Organic and Biomolecular Chemistry 2010, 8, 5486-5489
DeForest, Jacob*; Du, Lin; Joyner, P. Matthew. Identification of Biflavonoid from Araucaria Columnaris that Inhibits Seed Germination. Journal of Natural Products 2014, 77 (4), 1093-1096.
Selected Links: