Meet the Faculty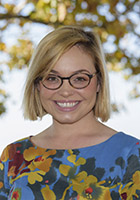 Jacqueline Marie Dillion, Ph.D.
Assistant Professor of English
Division: Humanities/Teacher Education Division
Office: Cultural Arts Center (CAC) 103A
Phone: (310) 919-6422
E-mail: jacqueline.dillion@pepperdine.edu

Ph.D., English Literature, University of St. Andrews, UK, 2014
M.A., Nineteenth-Century Studies, University of Hull, UK, 2007, First Class with Distinction
B.A., English Language and Literature, Harding University, Arkansas, 2005, Honors with Distinction
Dr. Dillion earned her Ph.D. in English at the University of St Andrews (UK) with her dissertation entitled "Thomas Hardy: Folklore and Resistance." She earned her M.A. in Nineteenth-Century Studies at the University of Hull (UK) and her B.A. in English from Harding University. Dr. Dillion has been a visiting assistant professor at Pepperdine for the last two years where she has taught courses in British literature, literature of the British Empire, Humanities, and Great Books. Her doctoral research focused on Thomas Hardy, and she was invited to become the first Scholar in Residence at Max Gate, Hardy's house in Dorset (UK), where she worked extensively with the National Trust. She has published a number of articles on British literature and culture, has lectured widely around the world, and has been featured many times on the BBC, ITV, and BBC radio. Her first book, Thomas Hardy: Folklore and Resistance, was published by Palgrave Macmillan in 2016.
Courses:
Literature of the British Empire
Victorian Lives and Afterlives
Great Books I and II
World Literature II
HUM 111
HUM 212
HUM 313
Internship Supervision
Academic Interests:
Affect Theory
British literature in the long nineteenth century
History of the Emotions
Joseph Conrad
Literature and the Law
Literature, Science, and Belief
Postcolonial Theory
T.E. Lawrence
The British Empire
Thomas Hardy
Selected Works:
Thomas Hardy: Folklore and Resistance (Palgrave Macmillan, 2016)
"'To Fashion All Things Fair": T.E. Lawrence, Thomas Hardy, and The Dynasts', Journal of the T.E. Lawrence Society, Vol. 25.1 (Spring), 2016
'The Evil Eye? Looking and Overlooking in The Return of the Native', Rivista di Studi Vittoriani, Vol. 22.2 (Summer), 2015
'"Primitive Betrothal": The Portland Custom and The Well-Beloved', Proceedings of the Dorset Natural History and Archaeological Society, Vol. 35 (Summer), 2014
"'Unholy Exclamations": Scripture as Fetish in Far From the Madding Crowd', FATHOM: Association française sur les études sur Thomas Hardy, Vol. 1 (Spring), 2013
'First Days at Max Gate', Thomas Hardy Society Journal, Vol. 7.1 (Spring), 2011
'Drinking "With a Good Conscience": The Temperance Pledge and The Mayor of Casterbridge', Thomas Hardy Society Journal, Vol. 5.1 (Spring), 2009
Selected Links: