Meet the Faculty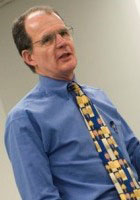 Frank G. Novak Jr.
Professor of English
Division: Humanities/Teacher Education Division
Office: Cultural Arts Center (CAC) 308
Phone: (310) 506-4427
E-mail: frank.novak@pepperdine.edu

Ph.D., University of Tennessee
M.A., University of Tennessee
B.A., Harding College
Courses:
Great Books I-IV
American Literature
Modern European Literature
Key Awards/Affiliations:
Arnold L. and Lois S. Graves Award in the Humanities (1990).
Fulbright Senior Scholar Award in American Literature (University of Maribor, Slovenia, 1994).
Visiting Professor (Pepperdine University International Programs, Florence 2005-06.
Academic Interests:
Herman Melville
Lewis Mumford and his Circle
The American Novel
Thomas Mann
Selected Works:
"In Old Friendship": The Correspondence of Lewis Mumford and Henry A. Murray, 1928-1981 (Syracuse University Press, 2007).
Lewis Mumford and Patrick Geddes: The Correspondence (London and New York: Routledge, 1995).
The Autobiographical Writings of Lewis Mumford: A Study in Literary Audacity (Honolulu: University of Hawaii Press, 1988).
The Satanic Personality in Updike's Roger's Version, Christianity and Literature 55 (Fall 2005): 3-26.
The Kraken in the Computer, Studies in the Novel 37 (Spring 2005): 82-96.
Lewis Mumford and the Reclamation of Human History, Clio: A Journal of Literature, History and the Philosophy of History 16 (Winter 1987): 159-181.
Crisis and Discovery in The Professor's House," Colby Library Quarterly 22 (June 1986): 119-132.
The Dialectics of Debasement in The Magus, Modern Fiction Studies 31 (Spring 1985): 73-82.
'Warmest Climes but Nurse the Cruellest Fangs': The Metaphysics of Beauty and Terror in Moby-Dick, Studies in the Novel 15 (Winter 1983): 332-343. Reprinted in Harold Bloom, ed., Modern Critical Interpretations: Herman Melville's Moby-Dick (New York: Chelsea House, 1986): 119-130.