Meet the Faculty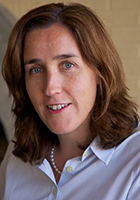 Fiona M. Stewart, Ph.D.
Assistant Professor of Italian Studies
Division: International Studies and Languages Division
Office: Pendleton Learning Center (PLC) 102
Phone: 3105067319
E-mail: fiona.stewart@pepperdine.edu

Ph.D. Italian, University of Glasgow, 2007
M.A. (Hons.) Italian & Latin, University of Glasgow, 2000
Fiona M. Stewart is Assistant Professor of Italian and Coordinator of Italian at Pepperdine University in Malibu, CA. Her M.A. and her Ph.D. are from the University of Glasgow. Prior to joining the Pepperdine faculty in 2013, she taught at the University of Glasgow, the University of Kentucky and the Pennsylvania State University. In her research Professor Stewart combines literary, historical and cinematic sources to analyze how and why Italians of the twentieth and twenty-first century recount and interpret individual and national experiences. This interdisciplinary approach allows her research to contribute new knowledge both to well-studied and lesser-known individual and collective Italian experiences.
Courses:
First Year Seminar: Excursions in Italian Culture
Elementary Italian I
Elementary Italian II
Second Year Italian
Advanced Italian grammar, conversation and composition
Italian in Communication: The Language of Media
Italian Civilization
Contemporary Italian Literature
Italian Cinema from Neorealism to the Present
Primo Levi: Witness and/or Writer?
Literary Responses to 20th Century Realities
Reading Calvino through a Christian Lens
Academic Interests:
Italian Cinema
Representations of the Italian Resistance to Fascism
Twentieth Century Literature and Culture
Selected Works:
'Libera nos a malo: Violence and hope, image and word in Rossellini's Roma città apertá, California Journal of Italian Studies, Vol. 6., 2016
'"We will build a better world together": Female Partisans' Memories of their Resistance to Fascism (1943-1945)', Italian Women at War: Sisters in Arms From the Unification to the Twentieth Century, ed. by Susan Amatangelo (Hackensack, NJ: Farleigh Dickinson University Press, 2016), 2016
Voci dal lager: Diari e lettere di deportati politici 1943-1945, by Mario Avagliano and Marco Palmieri (Turin: Einaudi, 2012), Journal of Modern Italian Studies, Volume 19, Issue 4, Fall 2014., 2014
Oral History, Oral Culture, and Italian Americans, ed. by Luisa Del Giudice, (NYC: Palgrave Macmillan, 2009), Modern Italy, Vol. 17, Issue 2, 2012, 279-280., 2012
The Italian Resistance: Fascists, Guerrillas and the Allies, by Tom Behan, (London & New York: Pluto Press, 2009), Modern Italy, Vol. 16, Issue 1, 2011, 96-98., 2011
Arduous Tasks. Primo Levi, Translation, and the Transmission of Holocaust Testimony, by Lina N. Insana (Toronto: University of Toronto Press, 2009), Forum Italicum, Vol. 44 No. 2, Fall 2010, 583-585., 2010
'The Interaction of Methodology with an "impegno del dopo" in Nuto Revelli's Collections of Oral Testimonies', Modern Italy, Volume 13, Issue 1, February 2008, 51 - 68., 2008