Meet the Faculty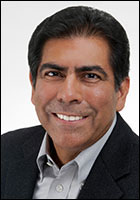 Daniel A. Rodriguez
Professor of Religion and Hispanic Studies
Division: Religion and Philosophy Division
Office: Appleby Center (APC) 254
Phone: (310) 506-4767
Fax: (310) 506-6907
E-mail: daniel.rodriguez@pepperdine.edu

Ph.D., Intercultural Studies, Fuller Theological Seminary, Pasadena, CA, 2000
M.A., Religion, Pepperdine University, Malibu, CA, 1981
B.A., Religion, Pepperdine University, Malibu, CA, 1978
Courses:
REL 301, Christianity and Culture: Rich Christians in an Age of Hunger
REL 340, The Nature and Purpose of the Church
REL 542, Communicating the Gospel in Domestic and Global Contexts
REL 544, Multi-ethnic Ministry and Cross-Cultural Missions
REL 640, Mobilizing the Church as a Missional Community
Key Awards/Affiliations:
Member, American Academy of Religion (Since 1994)
Member, American Society of Missiology (Since 2001)
Member, Association of Professors of Mission (Since 2002)
Member, Evangelical Theological Society (Since 2000)
Member, Evangelical Missiological Society (Since 2000)
Board of Trustees, Missions Resource Network (Since 2003)
Board of Directors, Hispanic National Association of Evangelicals (Since 2008)
Academic Interests:
Contextualization and Contextual Theology
Hispanic Culture and Ministry in the United Sates
Latino/a Theology and Religion in the United States
Multi-ethnic Ministry and Cross-Cultural Missions
Urban Mission and Ministry in the United States
Selected Works:
Book Chapter
"Hispanic Youth Ministry in the USA." In Pentecostals and Charismatics in Latin America and Latino Communities. Edited by Nestor Medina and Sammy Alfaro. New York: Palgrave MacMillan (October 2015).
Guest Editor
Leaven Journal issue dedicated to "Missions in the Twenty-first Century" (Vol. 21, Issue 1, winter 2013).
Book
A Future for the Latino Church: Models of Multilingual, Multigenerational Hispanic Congregations. InterVarsity Academic (June 2011). ISBN: 978-0-8308-3930-8.
Journal Article
"Hispanic Ministry Where Language Is No Barrier: Church Growth among U.S.-born English-dominant Latinos," Missiology: An International Review, Vol. 38, No. 4 (Fall 2010): 432-442.
Journal Article
"Where Language is No Barrier: Hispanic Ministry among U.S.-Born English-Dominant Latinos," Apuntes: Theological Reflections from the Hispanic Margin, Vol. 29, No. 3 (Fall 2009): 103-119.
Encyclopedia Entry
"Mexican-Americans: A Social and Religious History" (5000-word entry). In the Encyclopedia of Hispanic American Religious Cultures. Edited by Miguel De La Torre. Santa Barbara, CA: ABC-CLIO (2009), pp. 357-367.
Journal Article
"Becoming All Things to All Latinos: Case Studies in Contextualization from the Barrio," The Stone-Campbell Journal, Vol. 11, No. 2 (Fall 2008): 199-211.
Performances:
Seminar
"Comprendiendo y desarrollando a la segunda y tercera generación para el evangelismo y las misiones," delivered at the Instituto Iberoamericano de Estudios Transculturales (IIbET), Orlando, FL (July 16-18, 2015).
Lecture
"Spiritual Formation in the Barrio: Making Disciples of Hispanic Teens in the USA," delivered at Annual Meeting of the Evangelical Theological Society, San Diego, CA (11/19/14).
Lecture
"Justice for the Alien: Trajectories for Consideration in the Debate on Immigration from the Vantage of Practical Theology," presented at the Christian Scholar's Conference, Lipscomb University, Nashville, TN (6/6/14).
Lecture
"Desafíos que enfrenta la iglesia latina en los EUA" (Challenges Facing the Latino Church in the USA), presented at the annual meeting of Latino Ministries of the American Baptist Churches of Los Angeles, the Southwest and Hawaii, Los Angeles, CA (3/29/14).
Lecture
"Between Two Worlds: Multigenerational and Multilingual Hispanic Youth Ministry in the USA," delivered at Annual Meeting of the Evangelical Theological Society, Baltimore, MD (11/19/13).
Seminar
"Promised Land or Egypt: The United States from a Hispanic Evangelical Perspective," delivered at Annual Meeting of the American Academy of Religion, Baltimore, MD (11/24/13).
Lecture
"A Future for the Latino Church," presented at the Lutheran Hispanic Missionary Institute/PALMCON Conference, El Paso, TX (October 24-25, 2013).
Lecture
"A Future for the Latino Church," presented at the Learning Community Conference of the Free Methodist Church Western Region, City of Industry, CA (9/16/13).
Lecture
"Planting and Nurturing Multiracial/Multiethnic Churches," delivered at Harding School of Theology, Memphis, TN (9/6/12)
Lecture
"Spanish Ministries: Yesterday, Today and Tomorrow," delivered at World Discipleship Summit of the International Church of Christ, San Antonio, TX (7/7/12)
Selected Links: