Meet the Faculty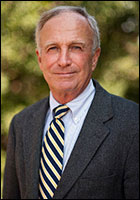 Dan E. Caldwell
Distinguished Professor of Political Science
Division: Social Science Division
Office: Appleby Center (APC) 243
Phone: (310) 506-4573
Fax: (310) 506-7271
E-mail: dan.caldwell@pepperdine.edu

Ph.D., and M.A, Stanford University, 1978
M.A., Fletcher School of Law and Diplomacy, Tufts University, 1971
A.B., History, Stanford University, 1970
Courses:
American Foreign Policy
International Relations
Arms Control and International Security
Senior Seminar in International Studies
Key Awards/Affiliations:
Listed in Contemporary Authors, Who's Who in American Education and Who's Who in the West.
Member of the Clinton-Gore Transition Team for the U.S. Arms Control and Disarmament Agency, Washington, D.C., December 1992; Gore-Lieberman Arms Control Task Force, 2000; Kerry-Edwards Working Group on Weapons of Mass Destruction, 2004.
Professor of the Year, Student Alumni Association, Seaver College, Pepperdine University, 1992
Charles and Harriet Luckman Distinguished Teaching Award, 1991, 1996.
Center for Teaching Excellence Award for Teaching, 2003.
Pew Faculty Fellowship in International Affairs, John F. Kennedy School of Government, Harvard University, 1990-91.
Malone Fellow, National Council on U.S.-Arab Relations, 1990.
United States Institute of Peace Fellowship, 1987-88.
American Political Science Association
Arms Control Association
Council on Foreign Relations
Pacific Council on International Policy
Academic Interests:
International Relations
National Security and Arms Control
Russian-American Relations
Selected Works:
World Politics and You, Upper Saddle River, New Jersey: Prentice-Hall Publishers, Inc., 2000.
The Dynamics of Domestic Politics and Arms Control: The SALT II Treaty Ratification Debate. Columbia, South Carolina: The University of South Carolina Press, 1991.
American-Soviet Relations: From 1947 to the Nixon-Kissinger Grand Design. Westport, Connecticut: Greenwood Press, 1981.
Co-editor with Timothy J. McKeown. Diplomacy, Force and Leadership: Essays in Honor of Alexander L. George. Boulder, Colorado: Westview Press, 1993.
Co-editor with Michael Krepon. The Politics of Arms Control Treaty Ratification. New York: St. Martin's Press, 1991.
Editor. Soviet International Behavior and U.S. Policy Options. Lexington, Massachusetts: Lexington Books, 1985.
Editor. Henry Kissinger: His Personality and Policies. Durham, North Carolina: Duke University Press, 1983.
Co-authored with Robert E. Williams, Jr. Seeking Security in an Insecure World. Lanham, Maryland: Rowman and Littlefield, 2006.