Meet the Faculty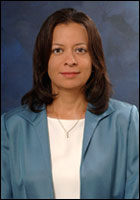 Constance R. "Connie" James
Professor of Management

Division: Business Administration Division
Office: Center for Communication and Business (CCB) 313
Phone: (310) 506-4514
E-mail: connie.james@pepperdine.edu

Ph.D., University of California, Los Angeles
M.B.A., University of Michigan
B.A., University of Michigan
Courses:
Corporate Strategy
Policy
Management Theory and Practice
Key Awards/Affiliations:
Honorary Teacher of the Year, Seaver College
Pepperdine Rotaract, Faculty Sponsor
UCLA NAMIC Executive Education
Academy of Management
Strategic Management Society
Academy of Management BPS Finalist and Best Dissertation
ORSA/TIMS Finalist and Best Dissertation
Project 88 Fellowship, UCLA
Management Fellowship, UCLA
Exxon Fellowship, University of Michigan
Academic Interests:
RESEARCH INTEREST: Coordination, control and integrating mechanisms of firms; dynamic capabilities and resources; and knowledge and organizational learning.
SPECIAL INTERESTS: learning organizations and organizational design
TEACHING INTEREST: Corporate strategy, business policy, organizational theory, and management.
Selected Works:
DISSERTATION: Unbundling Corporate and Business Unit Effects: A Control and Value Creating Capabilities Framework.
Designing Learning Organizations. Organizational Dynamics, Volume 32, No. 1, p. 46-61, 2003.
Increasing the Firm's Strategic IQ: Dynamic Versus Static Strategic Planning. The Graziadio Business Report. Volume 6 (2): 2003.