Meet the Faculty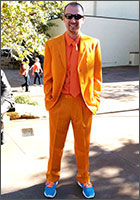 Christopher D. "Chris" Doran
Associate Professor of Religion
Division: Religion and Philosophy Division
Office: Rockwell Academic Center (RAC) 167
Phone: (310) 506-4179
E-mail: christopher.doran@pepperdine.edu

Ph.D., Systematic & Philosophical Theology, Graduate Theological Union, 2007
M.Div., Pepperdine University, 2002
B.A., Biology, Pepperdine University, 1998
Courses:
Christianity & Sustainability
Theology & Science
Christian Ethics
Faith & Reason (First-Year Seminar)
Key Awards/Affiliations:
National Endowment of the Humanities Summer Scholar
CDIUR Grant
AYURI Grant
Summer Undergraduate Research Program
International Society for the Study of Religion, Nature & Culture
Center for Theology and the Natural Sciences
American Academy of Religion
Academic Interests:
Christian responses to the ecological crisis
Concepts of humanity in light of the natural sciences
Environmental ethics and public policy
Theology and science dialogue
Selected Works:
Chris Doran, "Being Sustainable Through Frugality: Good for the Soul, the Neighbor & the Earth" forthcoming.
Chris Doran, "What Would Leopold Think," forthcoming.
Chris Doran, "A Christian Contribution to Sustainability," Teaching Sustainability and Teaching Sustainably, forthcoming.
Chris Doran, "Christian Responses to Evolution," The Routledge Companion to Religion and Science (October 2011).
Chris Doran, "Intelligent Design: It's Just Too Good to be True," Theology & Science, vol. 8, no. 2 (May 2010): 223-37.
Chris Doran, "From Atheism to Theodicy to Intelligent Design: Responding to the Work of Francisco J. Ayala," Theology & Science, vol. 7, no. 4 (November 2009): 337-44.
Performances:
"Living on the Edge by Being Frugal" at Living on the Edge, 4th International Conference of the International Society for the Study of Religion, Nature and Culture, Perth, Australia (December 16-19, 2010)
"Frugality: The Missing Link in the Discussion about Sustainability" at Campus Initiatives to Catalyze a Just and Sustainable World, Association for the Advancement of Sustainability in Higher Education, Denver, CO (October 10-13, 2010)
"Sustainability in Christian Higher Education: A Look at Pepperdine University" at Campus Initiatives to Catalyze a Just and Sustainable World, Association for the Advancement of Sustainability in Higher Education, Denver, CO (October 10-13, 2010)
"Sustainability & Pepperdine University: A Contradiction in Terms?" at Working Together for Sustainability: On Campus and Beyond, Association for the Advancement of Sustainability in Higher Education, Raleigh, NC (November 10-12, 2008)
"And God said, 'Let There Be Specified Complexity': A Critical Appraisal of Intelligent Design" at God, Nature, and Design:Historical and Contemporary Perspectives, Oxford University, (July 10-13, 2008)