Meet the Faculty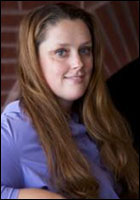 Christina Littlefield
Assistant Professor of Journalism and Religion
Division: Communication Division
Office: Center for Communication and Business (CCB) 145
Phone: 310-506-7086
E-mail: Christina.Littlefield@pepperdine.edu

PhD in Divinity, University of Cambridge, 2012
Master of Arts in Religion, Pepperdine University, 2003
Bachelor's in Journalism, minor in Religion, Pepperdine University, 2002, Magna Cum Laude
Courses:
Jour 241, Introduction to Newswriting and Editing
Jour 590, Investigative and Narrative Reporting
Com 400, Communication Ethics
Rel 301, Christianity and Culture
Rel 635, American Moral Thought
Key Awards/Affiliations:
Conejo Church of Christ, member since October 2012, serve on adult education committee and proofread newsletter
Investigative Reporters and Editors, member since 2014
Association for Education in Journalism and Mass Communication, member since 2014
American Academy of Religion, member since 2008, currently Western Region Nineteenth Century Chair
American Journalism Historians Association, member since 2015
American Society of Church History, since 2015
Ecclesiastical History Society, member 2008-2012
Society of Professional Journalists, member 1998-2007
Second Place, Investigative Reporting, 2007 Associated Press California-Nevada Newswriting and Photo contest
First Place, Freedom of Information Award, 2007 Nevada Press Association
Second Place, Best News Feature, 2006 Nevada Press Association
Part of reporting team which won First Place, Breaking News Coverage, 2005 National Society of Professional Journalists
Academic Interests:
American and British church history
civil religion
investigative journalism
religion coverage in the secular media
religion in the public sphere
the social gospel
Selected Works:
Chosen Nations: Pursuit of the Kingdom of God and its Influence on Democratic Values in Late-Nineteenth Century Britain and the United States. Minneapolis: Augsburg Press, 2013.
"Harry Potter as a Metaphor for Struggling with God" in World Wide Influence of Harry Potter, edited by Diana Patterson. Newcastle: Cambridge Scholars Publishing, 2009.
Performances:
Aug. 7, 2014, Association for Education in Journalism and Mass Communication, Montreal, Canada, Presented peer-reviewed poster "Promulgating the Kingdom: Social Gospel Muckrackers Josiah Strong and Hugh Prices Hughes."
Nov. 25, 2013, American Academy of Religion, Baltimore, Maryland, Presented paper "Pragmatism and Nationalism in the Work of Josiah Strong" for a joint session of the Liberal Theologies group and Pragmatism and Empiricism in American Religious Thought on the the theme "New Approaches to Social Gospel Theology."
March 10, 2012, American Academy of Religion Western Regional Conference, Arizona State University, Tempe. Presenting paper Chosenness and Civic Patriotism in Late Nineteenth Century England and the United States.
March 13, 2009, Ecclesiastical History Conference Postgraduate Colloquium. Presented paper Protestantism and National Identity in the Works of Congregationalists R.W. Dale and Josiah Strong at the University of Manchester.
November 11, 2009, McMenemy Seminar , Trinity Hall, Cambridge. Presentation How Would Jesus Vote? Understanding the Religious Right and the Religious Left in America
July 25-28, 2008, Accio 2008, Magdalen College, Oxford. Presented paper Harry Potter as a Metaphor for Struggling with God. Accio is a peer-reviewed academic conference on all things Harry Potter.
Selected Links: