Master of Arts in Strategic Communication
The faculty has recommended the closing of the MA in Strategic Communication and the MFA in Cinematic Media Productions. The college will not be accepting applications for the 2017-2018 academic year while the university goes through the program closure process.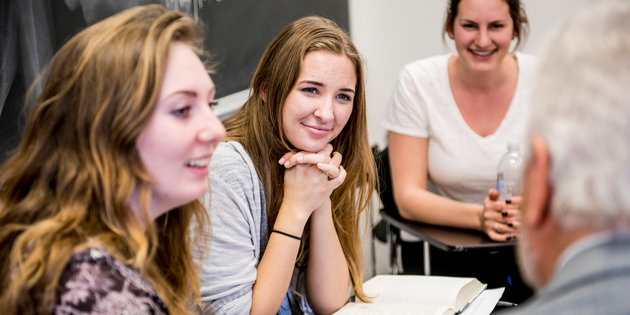 Broadly speaking, strategic communication is the study of how organizations and individuals use communication to negotiate their role in society. In public relations, advertising, integrated marketing communication, and corporate consulting for commercial organizations, strategic planning and communication may be directed towards the promotion of products and services, and building relationships with consumer and internal audiences. For nonprofit organizations and governments, this may be a strategic use of channels of communication to move audiences and influence public policy or to promote an agenda.
The Master of Arts in Strategic Communication at Pepperdine University is designed for new graduates and established professionals desiring advanced academic and professional training for global communication leadership positions. Strategic communication encompasses:
public relations,Tuition and Costs
advertising,
integrated marketing communication,
corporate consulting, and
organizational, social, and political issues advocacy.
Our program allows students to gain advanced expertise for leadership in critical thinking, strategic analysis and planning, and practical skills essential to developing and implementing communication strategies that advance an organization's goals and mission, from the distinctive Pepperdine Christian worldview and focus on service, purpose, and leadership.
A course sequence has been developed that provides a solid foundation in
communication and media theory,
research methods,
writing and creative media strategy,
digital and social media management,
professional practice and leadership, and
ethical and legal considerations.
In addition, students are required to select a concentration of courses that matches their career and professional interests, in consultation with their adviser. This includes the option of taking selected courses at Pepperdine's Graduate School of Public Policy.
Graduate Application Deadlines
The application deadline for the fall term of the Master of Arts in Strategic Communication is March 31st. Students wishing to apply for scholarships and assistantships must submit an online application by February 1st. This application may be obtained from the Graduate Coordinator in the Communication Division.
For specific questions about the MA in Strategic Communication, please contact the Graduate Chair, Dr. Robert "Bert" Ballard , or Judith Tapper, Program Coordinator.