Chemistry Major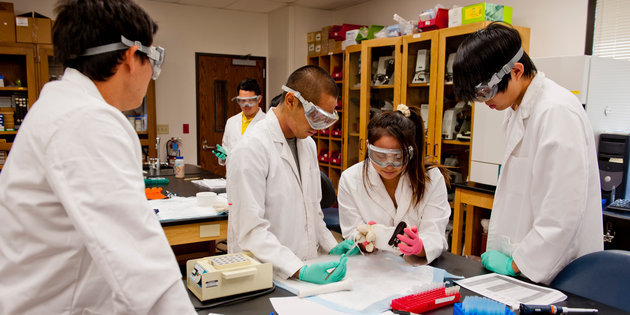 The Seaver College chemistry degree program is committed to providing chemistry majors a modern, rigorous, and dynamic chemistry education that stimulates and encourages scholarship of discovery. Graduates in chemistry have many options including graduate school, medical and other health-related schools, jobs in industry, and science education.
The chemistry program is approved by the American Chemistry Society (ACS) and is one of only 43 certified programs in the state of California. ACS approved institutions offer a broadly based and rigorous intellectual experience in chemistry that is nationally recognized. Students completing a baccalaureate degree that meets the ACS guidelines will receive an ACS-certified degree.
The bachelor of science degree (both the standard sequence and biochemistry emphases) include the coursework and experience necessary to satisfy requirements for ACS certification. For example, students completing the bachelor of science degree with biochemistry emphasis could say they have been awarded with an ACS-certified chemistry degree with a biochemistry emphasis.
Chemistry Degrees
Bachelor of Arts in Chemistry: Although this degree provides options for the same degree tracks (standard and biochemistry) as that seen for the bachelor of science degree in chemistry, students are provided more flexibility in their pursuit of a liberal arts education. Students seeking either a double major or admission to a health-related program are accommodated with this major.
Bachelor of Science in Chemistry: Students seeking this degree receive more in depth exposure to advanced mathematics, chemistry, and physics. This option benefits students interested in health professional careers or graduate degrees in chemistry. Many of the chemistry majors in this program actively participate in undergraduate research that eventually leads to graduate school.
Chemistry Minor
Many of our biology and sports medicine majors take six courses in chemistry. Our minor accommodates these students by requiring only two additional courses.