English Major and Minor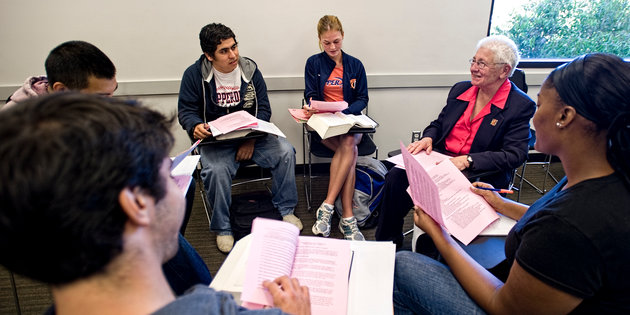 English majors share a passion for the written word as a means for engaging the human experience in all its intellectual, ethical, spiritual, and emotional complexity. Because the English language is recognized globally as an international means of communication, graduates from our English major program go on to pursue graduate study in English as well as careers in a variety of fields including secondary and college teaching, publishing, writing, editing, journalism, law, business, and librarianship.
English Degree
Our small English classes allow students to interact regularly with faculty. Enriched by a constant practice of reading and writing, students shape their major by choosing one of three areas in which to concentrate: literature, writing, or education.
In all concentrations, English majors sharpen their writing, speaking, and critical thinking skills in preparation for their chosen career paths.
Literature: Students focus on the development of the American and British literary traditions.
Writing: Students focus on rhetoric and the composition process.
Education: Students prepare to teach English at the secondary level and receive their certification upon completion of their degree.
English Minors
Minor in English Literature: Students who minor in English literature focus on the development of the American and British literary traditions.
Minor in Writing: Students who minor in writing demonstrate an expertise in the written word. Our minor prepares students who wish to pursue careers in any professional field such as business, publishing, editing, or library science. It is also ideal for students who wish to attend law school or graduate school in any discipline.