Creative Writing
The ability to write well is a highly valued specialization. Students skilled in this area find careers writing and editing not only in publishing companies and magazines, but in business, government agencies, and the creative arts. For three decades creative writing has been an integral part of the literary arts community at Pepperdine University. Today our creative writing program is at the center of a large and active community on campus and Pepperdine is proudly one of a few select universities that offer the Bachelor of Arts in Creative Writing.
Bachelor of Arts in Creative Writing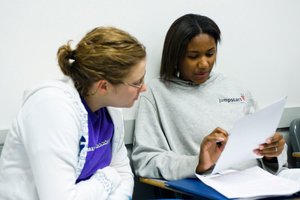 During our sequential course of study, students develop their talents in fiction, poetry, and writing for screen and television. In addition, our students sharpen their verbal and critical skills and develop a professional attitude about their writing. Our creative writing program is designed for students desiring careers as professional writers.
Minor in Creative Writing
A minor in creative writing offers students experience in the craft and analysis of writing, providing a strong foundation for professional and artistic lives in the literary arts.