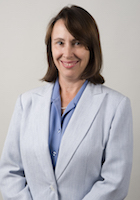 Maire Mullins
Professor of English
Humanities/Teacher Education Division Chair
Division: Humanities/Teacher Education Division
Office: Cultural Arts Center (CAC) 109
Phone: (310) 506-4894
E-mail: maire.mullins@pepperdine.edu

Ph.D., English, University of Notre Dame
M.A., English, University of Nevada
B.A., English, University of Nevada
Courses:
Women's Studies
American Literature
Social Action and Justice Seminar
Key Awards/Affiliations:
Fulbright Scholar, Japan
Fulbright Association
Editor, Christianity and Literature
Modern Language Association
Academic Interests:
Feminist Theory
Poetry and Poetics
Walt Whitman
Selected Works:
"Birdsong in Whitman: Listening to the Mockingbird in 'Out of the Cradle Endlessly Rocking'." Walt Whitman Quarterly Review 31 (2013), 18-30.
"Isak Dinesen (Karen Christentze Blixen)" New Catholic Encyclopedia 2011. Ed. Robert L. Fastiggi. 2 Vols. Detroit: Gale, 2011. 368-370
"Imagining Community: Language and Literacy in Hisaye Yamamoto's 'Seventeen Syllables.'" Journal of Asian American Studies June 2010: 219-241.
"Finding Ways to Make Time." American Council on Education The Chair as Leader Newsletter, 2010.
"'Deeper Down in the Domain of Human Hearts': Hope in Isak Dinesen's Babette's Feast. Logos: A Journal of Catholic Thought and Culture 12: I (Winter 2009): 1-22.
"Diversity in Whitman: Section Thirty-Three of 'Song of Myself.'" Notes on American Literature 17: 1 (2008), 21-28.
"The Gift of Grace: Isak Dinesen's Babette's Feast. The Gift of Story: Narrating Hope in a Postmodern World. Eds. Emily Greisinger & Mark Eaton. Texas: Baylor UP, 2006. 279-296.
"Sexuality in Leaves of Grass." A Companion to Walt Whitman. Ed. Donald D. Kummings. Oxford: Blackwell Publishers, 2006. 164-179.
"Alexandra's Dreams: 'The Mightiest of All Lovers' in Willa Cather's O Pioneers!" Great Plains Quarterly 25:3 (2005): 147-159.
"Creating Consensus and Nourishing Dialogue: A Model of Collaboration for Department Chairs." Academic Leader: The Newsletter for Academic Deans and Department Chairs 18:1 (Jan. 2002): 2-3.
"'I Bequeath Myself to the Dirt to Grow from the Grass I Love': The Whitman-Cather Connection in O Pioneers!." Tulsa Studies in Women's Literature 20:1 (2001): 123-136.
"Stopping History in Walt Whitman's Drum-Taps." Walt Whitman Quarterly Review 17:1-2 (Summer 1999/Fall 1999): 4-14.
"Esther's Smile: Silence and Action in Hisaye Yamamoto's 'Wilshire Bus.'" Studies in Short Fiction 35 (1998): 75-82.
Entries written for Walt Whitman: An Encyclopedia. Eds. J.R. LeMaster and Donald D. Kummings. New York: Garland Publishing, 1998: "Juliette H. Beach"; "Spontaneous Me"; "From Pent-up Aching Rivers"; "Once I Pass'd through a Populous City"; "To Rich Givers"; "A Woman Waits for Me"
"Writing Woman's Body in Walt Whitman's Leaves of Grass." The Tohoku Journal of American Studies (Sendai, Japan) Vol. I (Fall 1997): 1-28.
"Home, Community, and the Gift that Gives in Isak Dinesen's Babette's Feast." Women's Studies: An Interdisciplinary Journal 23 (1994): 217-228.
"Leaves of Grass as a 'Woman's Book.'" Walt Whitman Quarterly Review 10:4 (Spring 1993): 195-208.
"Act-Poems of Eyes, Hands, Hips and Bosoms: Women's Sexuality in Walt Whitman's Children of Adam." ATQ: American Transcendental Quarterly Special Issue: Walt Whitman 6:3 (September 1992): 213-231.
"Double Vision: The Function of the Fool in Yeats' On Baile's Strand." Eire Ireland 24 (1989): 139-149.
Selected Links: