Meet the Faculty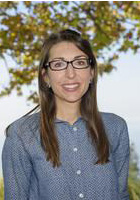 Kelly Maxwell Haer, PhD, LPC
Visiting Assistant Professor of Psychology
Division: Social Science Division
Office: Appleby Center (APC) 238
Phone: 3105064016
E-mail: kelly.haer@pepperdine.edu

Bachelor of Science in Nutrition, Furman University, 2005
Master of Arts in Counseling, Covenant Theological Seminary, 2008
Doctorate of Philosophy in Family Therapy, Saint Louis University, 2015
Ph.D. in Family Therapy from St. Louis University. M.A. in Counseling from Covenant Theological Seminary. BA in Nutrition from Furman University. (Dissertation, "An Exploration of Boundary Ambiguity Among Never-Married Single Women"). Dr. Haer brings teaching experience from Covenant Theological Seminary and Maryville University. She has taught courses at the M.A. and undergraduate levels, including research methods, psychological disorders, and counseling skills. Her clinical specializations included women struggling with eating disorders and couples counseling. She has presented at local, state, national, and international conferences on singleness, eating disorders, and infidelity and communication technologies. She has co-authored articles and a book chapter in Routledge's "Advanced Methods in Family Therapy Research." She plans to continue researching and writing on the emotional experience of being single.
Courses:
PSYC 315: Psychological Testing and Assessment
PSYC 432: Family Therapy
PSYC 456: Body Image and Eating Disorders
Academic Interests:
Ambiguous Loss
Eating Disorders
Emotional Experience of Single Adults
Selected Works:
Maxwell Haer, K., & Zubatsky, M. (Submitted for Publication). Where Art Thou Romeo? Boundary Ambiguity Among Never-Married Single Women. Family Relations.
Brimhall, A., Miller, B., Maxwell, K., & Alotaiby, A. (2016). Does it Help or Hinder?: Technology and its Role in Healing Post-affair. Journal of Couple and Relationship Therapy. Advance online publication. doi: 10.1080/15332691.2016.1142408.
Heiden-Rootes, K., Jones, A., Reddick, G., Jankowski, P., & Maxwell, K. (2015). "There's Something Not Right" and "Bringing it Forward:" Identifying and Responding to Clinical Challenges. The Family Journal, 23(3), 262-270.
Meyer, D., Jones, M., Rorer, A., & Maxwell, K. (2014). Examining the Associations Among Attachment, Affective State, and Romantic Relationship Quality. The Family Journal, 23(1), 18-25.
Smith, C. W., Maxwell, K., & Jones, L. N. (2014). Emergent Technologies in Couple and Family Therapy Research. In Miller, R. & Johnson, L. (Eds.) Advanced Methods in Family Therapy Research: A Focus on Validity and Change. Routledge: New York.
Maxwell, K. (2011). Body in Focus. Healthy Cells Magazine. 30. Saint Louis, MO.