Alumni Spotlight - Sarah Ketelhut ('13)
---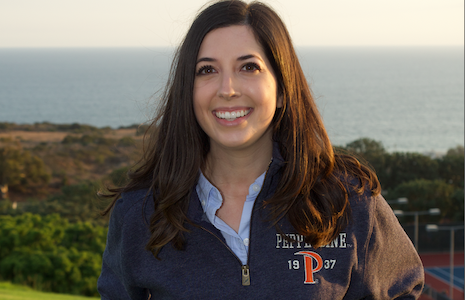 Current City: Los Angeles, California
Hometown: Thousand Oaks, California
Graduation Year: 2013
Major: Public Relations
Occupation: Manager, Development & Community Relations at Caruso
Why did you choose to attend Pepperdine?
I visited Pepperdine for the first time when I was around 10 years old, and I told my parents that day that I wanted to go there. Many years later, when it was time for the college selection process, I only applied to one school - Pepperdine. And I got in! The location, academics, small class sizes and proximity to friends and family were extremely important to me. Pepperdine ended up being a fantastic choice in helping to launch me in my future career.


What is your favorite college memory?
My best college memory was having the opportunity to book Imagine Dragons for the Spring Concert in my senior year. Being able to book such a top tier act, and then watching thousands of fellow students, parents, family, and friends enjoying the show was definitely one of the peaks of my college experience.
What is the most important thing you learned while at Pepperdine?
I learned diligence, perseverance, and determination when it came to pushing myself to do just a little bit more, to go outside by boundaries, to get that next great internship, to arrive early and stay just a little bit longer after class to bond with my teachers. I learned more about who I was at my core, and who I wanted to continue becoming. I learned how to put my goals in practice, and achieve them, and Pepperdine gave me the tools to do that.
What advice do you have for students who want to make the most out of their experience at Pepperdine?
Get to know your professors. My friendships with my professors are some of my greatest memories from Pepperdine, and many of them I still keep up with today. If you strengthen that bond, ask good questions, and show initiative, you are bound to make lifelong friends and allies in your professors. There is nothing more rewarding than grabbing a cup of coffee with an old professor, 5 years after graduation to talk about your accomplishments, trials and lessons learned. These people are so valuable in my life and I'm so glad I took the time to invest in those relationships.
What is your greatest professional accomplishment as of now?
My biggest professional accomplishment in my career at Caruso has been successfully managing the community relations strategy and implementation for our Palisades Village project that just recently opened. I spent almost 5 years on the project from acquisition, through entitlements, community outreach, design, City approvals, demolition and construction, and now grand opening and operations. It was a huge undertaking, but an incredible reward to now see it open! Additionally, having the opportunity to manage the Caruso Family Foundation, where I am managing millions of dollars in charitable giving in the greater Los Angeles area, every single year. Seeing our dollars directly giving back and changing people's lives is a hugely impactful part of my career.
How did your time at Pepperdine prepare you for what you are doing today?
Pepperdine gave me the tools to think critically, react carefully, think strategically and contribute to my company in a meaningful way. In my time at Pepperdine, I honed my public speaking, presentational skills, writing, editing, and most importantly, how to think fast in a crisis. These skills, among many others, have proved invaluable in my career at Caruso.

Anything else you'd like to share?
I'd just like to say thank you. Thank you for the incredible journey, the learning opportunities, the mentors, the unmatched education, and the opportunity to learn and thrive in an environment that values faith, morality and heart. I can truly say I'm a better person after my time at Pepperdine, and I feel I've grown into a woman who yearns to give back and make a positive change in the world. I'm proud to be a Wave and hope I continue to make the Pepperdine community proud.


---