Alumni Spotlight - David Sheftell ('09)
---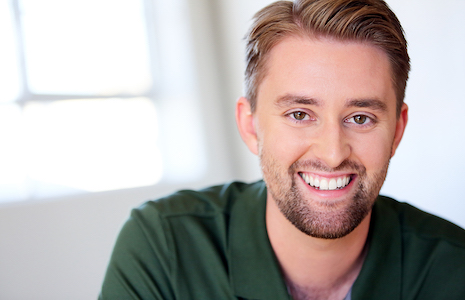 Current City: Los Angeles, California
Hometown: Calabasas, California
Graduation Year: 2009
Major: Theatre
Occupation: Realtor at Compass Real Estate Beverly Hills
Why did you choose to attend Pepperdine?
Cathy Thomas-Grant and the Theatre Program.

Who influenced you most during your time at Pepperdine?
Everyone in the Theatre Department, from the teachers to my peers. Because of them I was able to work with some of the most talented, the most fun, and the most kind people I have ever met.
What is your favorite college memory?
During one of the PIT (Pepperdine Improv Troupe) Shows, myself and two other members had rehearsal for "Our Town" the play that was performing in Smother's Theatre, so we were not able to be in the PIT Show. Our rehearsal let out early and we were able to catch the last bit of the Improv show and they were performing a Musical. This is when the shows were performed in the H.A.W.C. and it was packed, so the three of us were in the very last row in the very back of the room. The Musical was about Ancient Rome and the Colosseum and the Hero of the story was being defeated by the evil Emperor and it seemed that that's how the show was going to end. I said to my two friends, we have to jump in. When it looked like the Hero was just about to be killed I stood up and yelled "STOP THE FIGHT!" The entire show stopped as if the needle had scratched on a record player and every one turned to look at the three of us standing on chairs and I said "We are the Gods of Rome!" Everyone clapped, I forged a sword made of Lightning (mimed it) and threw it to the hero who destroyed the evil Emperor and saved the day. Becoming a Deus Ex Machina for my friends on stage was so much fun and people still bring it up to me to this day!

What is the most important thing you learned while at Pepperdine?
Kindness and Service in everything you do. Whether it's friendship, family, or in business; if you approach life in these ways it will reward you tenfold.
Describe your career path.
Since graduating Pepperdine I have pursued two career paths. The first as an Actor where I have worked on shows like The Young & the Restless and Days of Our Lives, have starred opposite Pierce Brosnan in Stephen King's Bag of Bones on A&E and have done Voice Over work for cartoons like Family Guy, American Dad, and The Cleveland Show as well as commercials for McDonalds and acting as the voice of Erie Insurance.
My second career path has been as a Realtor, and I am currently an Associate at Compass Real Estate out of Beverly Hills. I have helped people buy, sell, and lease residential and commercial properties throughout all of L.A. ranging from Beverly Hills to Inglewood to Santa Monica to Calabasas. I have been fortunate enough to work with many friends going all the way back to Kindergarten and helping them purchase their first home as well as helping friends from Pepperdine either purchase or lease a property right out of college.
Both Careers have fueled me and have been incredibly fulfilling.
Describe Pepperdine in three words.
Beautiful, Fun, and Home.
What advice do you have for students who want to make the most out of their experience at Pepperdine?
My advice would be to do as much as you can with your time there. Four years goes by in the blink of an eye so I would try to experience everything Pepperdine has to offer. Join a Frat/Sorority, participate in Songfest, do a semester abroad, sign up for Step Forward Day, go to a show, audition for PIT, take an elective that has nothing to do with your major, throw on a minor if it works for your schedule, make a movie, do a radio or TV show for the Pepperdine networks. Just experience as much as Pepperdine has to offer, because before you know it, you'll want to go back!
What is your greatest professional accomplishment as of now?
Having done so much in the almost nine years since graduating, it is difficult to pick just one thing above all the others, because it has all been so much fun, so rewarding, and so challenging. If I had to single out one thing though it would have to be working on Family Guy for Seth MacFarlane and Fox. Ever since the show came out in 1999 I have been an instant fan, and used to imitate all of the voices on the show (even leaving friend's outgoing messages as characters from the show for them). Then getting the opportunity to work and consistently come back and work on a show that I am also a fan of is a dream come true, and an honor and privilege to work with so many talented individuals.
How did your time at Pepperdine prepare you for what you are doing today?
I loved my time at Pepperdine and I think it prepared me very well for what I am doing today. Particularly working in the Theatre Department as well as doing Improv has made the aspects of both my careers much easier. When it comes to Acting and Real Estate, you have to constantly be on your toes. You have to be able to adapt to almost any situation because curve balls, that are often out of your control, are constantly being thrown at you and you have to know how to communicate, improvise, and adapt in those moments. Also meeting so many people at Pepperdine from different backgrounds and places has made it easy to become friends with almost anyone.

What is something people may not know about you?
Most people don't know that I'm a bit of a history buff and really enjoy learning as much as I can about Mythology, in particular Greek, Roman, and Norse Mythology. I am also very interested in the historical events leading up to and during World War II.

Anything else you'd like to share?
The last thing I'll say is this, if you're at Pepperdine now or are thinking of going to Pepperdine, I feel that you've made the right choice. Sometimes we wonder because we got into other colleges, whether we've made the right decision, what would our lives be like if we had gone somewhere else. Let me just say that you will not regret your time at Pepperdine. I know speaking for myself that through this wonderful school I have made life-long friends and have been embraced by a community that despite the fact that I have graduated almost a decade ago they always welcome back one of their own with open arms. Go Waves!


---