Master of Fine Arts in Cinematic Media Production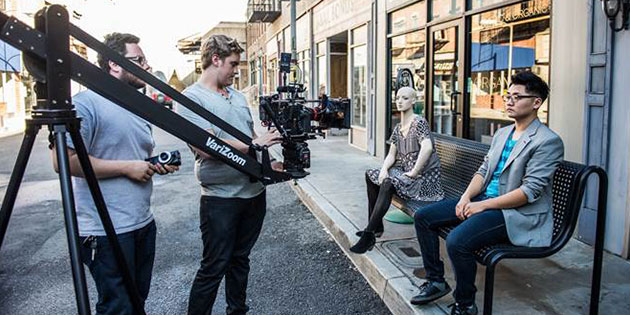 Seaver College will offer a new MFA in Cinematic Media Production.
The Master of Fine Arts (MFA) in Cinematic Media Production will be a rigorous, two-year professional degree in cinematic storytelling. It is designed for producers, directors, cinematographers, editors, production designers, sound designers, and others creating products such as theatrical releases, documentaries, television, web series, and other forms of narrative cinematic media.
The program leverages the access that comes from its ideal location in Malibu, surrounded by the media moguls who shaped the industry's past. Some of these industry insiders make up the faculty who educate our students to shape the industry's future -- working professionals who guide students to integrate personal values, ethics, and diversity in the creative and practical process.
Rooted in Pepperdine's commitment to purpose, service, and leadership, the mission of the program is to educate cinematic storytellers as cultural leaders in a diverse world. In addition to creative productivity, all students take a producing sequence focused on the business half of "show business." Alumni learn to be more than mere entertainers. They become creative entrepreneurs.
For specific questions about the MFA in Production, please contact Dr. Michael Smith.
In year one, students focus on storytelling through writing and production, while studying the history and structure of the cinematic media industry. Each student learns the significance of storytelling by applying skills in writing, producing, directing, cinematography, production design, editing, and sound. The goal of year one is to lay the foundation for intense student-to-student collaboration in a specific role in year two.
In the summer between years one and two, students form teams and create original content that will form the basis of their studies in year two. Students also begin the producing sequence, a process that will culminate in a business plan for a project that they can shop in the industry after graduation.
In year two, students are assigned industry mentors who personally guide students through the graduate project in their specific roles. Students complete the producing sequence in the portfolio course, creating promotional materials, a business plan, and a personal mission statement that will serve them upon graduation. The final graduate projects screen to the public in Hollywood.

Students who successfully complete this degree will create:
At least five introductory and intermediate level cinematic products
At least one graduate project (a creative thesis) in which they hold a major leadership position (writer, producer, director, cinematographer, production designer, editor, sound designer, or other role approved by the faculty) that will be evaluated for proficiency by the faculty and exhibited to the public
A portfolio that includes a "reel" or samples of creative work
A business plan for an additional creative product that the student plans to pursue after graduation
A mission statement that integrates faith and/or personal values into creative and professional vocations
Admission Requirements
Admission to the program will be contingent upon a favorable review of required application materials by the MFA production faculty and the Seaver Dean's Office. Prospective students must commit to the full-time, five-semester (includes 2 academic years and the summer in between) course sequence. Exceptions to this time-line are rare and must be made by petition to the MFA production faculty.

More details regarding the application materials will be available in mid-2015.