Meet the Faculty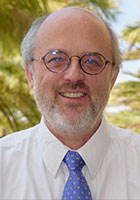 Philip Freeman, Ph.D.
Fletcher Jones Chair of Western Culture
Division: Humanities/Teacher Education Division
Office: Thornton Administrative Center (TAC) 201 H
Phone: (310) 506-6456
E-mail: philip.freeman@pepperdine.edu

Ph.D., Harvard University, 1994
Dr. Freeman completed his undergraduate work in Classics at the University of Texas and earned a joint Ph.D. in Classics and Celtic Studies from Harvard University. He has a particular interest in medieval Latin regligious writings and manuscripts from early Christian Ireland. Dr. Freeman's published books include biographies of St. Patrick, Julius Caesar, Alexander the Great, and the Greek poet Sappho.