Meet the Faculty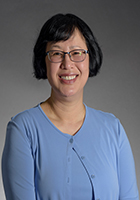 Khanh-Van T. Bui
Professor of Psychology
Division: Social Science Division
Office: Appleby Center (APC) 235
Phone: (310) 506-4805
Fax: (310) 506-7271
E-mail: khanh.bui@pepperdine.edu

Ph.D., Social Psychology, University of California, Los Angeles, 1997
M.A., Social Psychology, University of California, Los Angeles, 1993
B.A., Psychology, University of California, Los Angeles, 1990, Summa Cum Laude and Phi Beta Kappa
Courses:
Introductory Statistics
Intermediate Statistics and Computer Applications
Social Psychology
Psychology of Women
Key Awards/Affiliations:
Special Awards Judge for the American Psychological Association at the 2011 Intel International Science and Engineering Fair
Fellow for the 2001Summer Data Policy Institute on NCES (National Center for Education Statistics) and NSF (National Science Foundation) Databases
Association for Psychological Science
Council of Undergraduate Psychology Programs
Academic Interests:
Academic achievement
Adolescent health
Close relationships
Selected Works:
Bui, K. T. (2005). Middle school variables that predict college attendance for first-generation students. Education, 126(2), 203-220.
Bui, K. T., Ellickson, P. L., & Bell, R. M. (2000). Cross-lagged relationships among adolescent problem drug use, deviance, and poor mental health. Journal of Drug Issues, 30(2), 283-303.
Bui, K. T., Peplau, L. A., & Hill, C. T. (1996). Testing the Rusbult model of relationship commitment and stability in a 15-year study of heterosexual couples. Personality and Social Psychology Bulletin, 22(12), 1244-1257.
Bui, K. T., & Takeuchi, D. T. (1992). Ethnic minority adolescents and the use of community mental health care services. American Journal of Community Psychology, 20(4), 403-417.