Meet the Faculty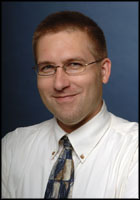 R. Christopher Heard
Associate Professor of Religion
Division: Religion and Philosophy Division
Office: Appleby Center (APC) 278
Phone: (310) 506-4299
Fax: (310) 506-6907
E-mail: christopher.heard@pepperdine.edu

Ph.D., Religious Studies, Southern Methodist University, Dallas, TX, 2000
M.A., Old Testament Studies, Abilene Christian University, Abilene, TX, 1993
B.A., Human Communication, Abilene Christian University, Abilene, TX, 1989
Courses:
History and Religion of Israel
The Pentateuch
Old Testament History
The Wisdom Literature
Old Testament Theology
Elementary Hebrew I-II
Intermediate Hebrew I
Key Awards/Affiliations:
Faculty Innovation in Technology and Learning Grant (2009-2010)
Seaver Research Council Grant (2009-2010)
Seaver Research Council Release Time Grant (2009-2010; monetary grant in lieu of release time)
Howard A. White Award for Teaching Excellence (2007)
Seaver Fellow in Religion, 2005-2006
Armstrong Fellow in Religion, 2004-2005
Society of Biblical Literature (member)
Society of Biblical Literature, Pacific Coast Region (past president, 2010-2011; president, 2009-2010; vice president, 2008-2009; chair, Hebrew Bible section, 2006-present)
Catholic Biblical Association (member)
National Association of Professors of Hebrew (member)
Hebrew Bible Section, Western Commission for the Study of Religion (chair)
Academic Interests:
Bible translation
Biblical theology
Judean culture, history, and literature in the Persian period
Literary features of biblical narrative
Popular culture in ancient Syria-Palestine
Reception history and reception theory
The book of Genesis
Selected Works:
Introduction to the Pentateuch and Genesis in Restoration Bible Commentary. Ed. Mark W. Hamilton et al. Abilene: Abilene Christian University Press, forthcoming.
Animated Films and God, Representations of in Encyclopedia of Religion and Film. Ed. Eric Mazur. Westport: Greenwood, forthcoming.
Triangulating Responsibility: How and Why Abraham, Isaac, and Ishmael Offer and Refuse the Gift of Death, and to/from Whom. Pp. 151-166 in Derrida's Bible: Reading a Page of Scripture with a Little Help from Derrida. Ed. Yvonne M. Sherwood. New York: Palgrave Macmillan, 2004.
Echoes of Genesis in 1 Chronicles 4:9-10: An Intertextual and Contextual Reading of Jabez's Prayer. Journal of Hebrew Scriptures 4.2 (2002).
Dynamics of Diselection: Ambiguity in Genesis 12-36 and Ethnic Boundaries in Post-Exilic Judah. Semeia Studies. Atlanta: Society of Biblical Literature, 2001.
They're Not Just Bad, They're Stupid and Ugly, Too: The Depiction of Baal-Worshipers in Nest Entertainment's Animated Stories from the Bible. Pp. 89-103 in Culture, Entertainment, and the Bible. Edited by George Aichele. Sheffield: Sheffield Academic Press, 2000.
Hearing the Children's Cries: Commentary, Deconstruction, Ethics, and the Book of Habakkuk. Semeia 77 (1997) 75-89.
Narrative Criticism and the Hebrew Scriptures: A Review and Assessment. Restoration Quarterly 38 (1996) 29-43.
The Dao of Qoheleth: An Intertextual Reading of the Book of Ecclesiastes and the Daode Jing. Jian Dao 5 (1996) 65-93.
Selected Links: