Pepperdine Alumni Artists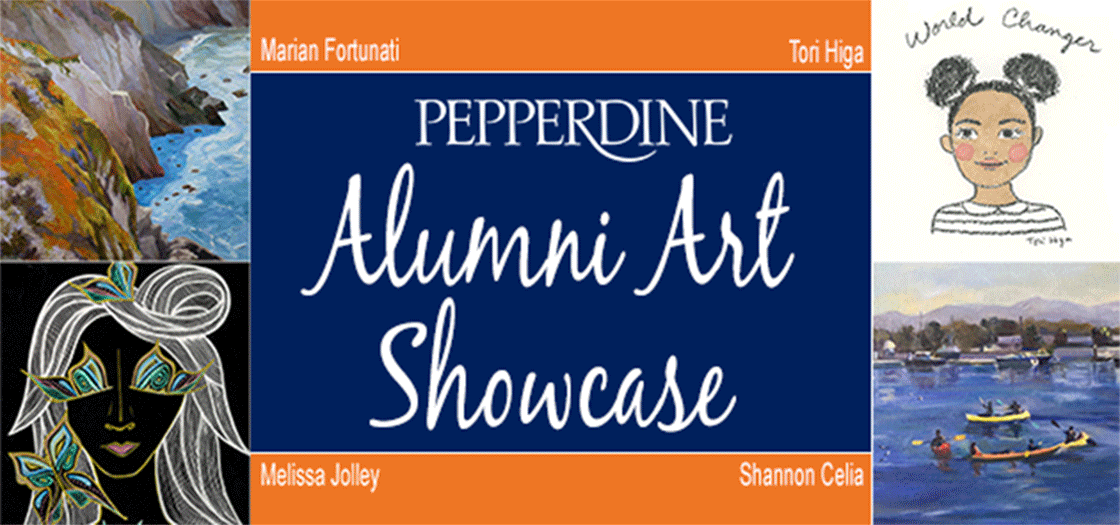 Alumni Artist Spotlights
Meet some of our Pepperdine alumni artists and enjoy their incredible work. To connect with fellow artists, join our Alumni Artist Facebook group.
| | | |
| --- | --- | --- |
| Marian Fortunati ('82) | Katherine Keyworth('10) | Emily Branch ('12) |
| Marian is a contemporary California impressionist who enjoys painting outdoors, Fortunati uses oil paints to create interesting experiments with texture and color using her outdoor sketches as references for larger studio work... | Katherine captures the intriguing collision of color and motion as emphasized by brush stroke and texture. Inspired by the energy created when contrast and composition are properly combined.... | Emily is an interdisciplinary artist with a background in abstract landscape paintings and genre scenes. Her works explore relationships between communities, visual representation of outdoor spaces, and human sciences... |
| | | |
| --- | --- | --- |
| Melissa Jolley ('00) | Shannon Celia ('98) | Kelly Voyles Aker ('08) |
| Melissa Jolley is a mixed media artist, illustrator, and avid doodler. She holds a degree in Communications from Pepperdine University and has worked in film and entertainment marketing for the last 17 years... | Shannon paints the gritty with the pretty to encourage community compassion and involvement. Every place and everyone this side of heaven encompasses both light and dark so through her lens, I aim for the light... | Sculptor and jewelry designer, Kelly Aker, is driven by creating unique pieces that can best be called "sculpture to wear". The collections are bold statements that range from modern to southwestern inspired... |
Tori Higa ('99)

Jocelyn Davis ('13)

Tori is inspired by her faith, family, friends, kids, flea markets, coffee shops, people watching, tea cups, sketch books, good books, textiles, and anything vintage. She especially enjoys incorporating vintage fabrics into her work...

Originally from Denver, Colorado, Jocelyn moved to Southern California to study Art and Media Production at Pepperdine University. During her study abroad year in Italy she was challenged by the many rich artistic styles and diverse cultures...
---

Interested in having your art highlighted on this page? Contact Chad Quiñones or call 310.506.4348.