Student Health Center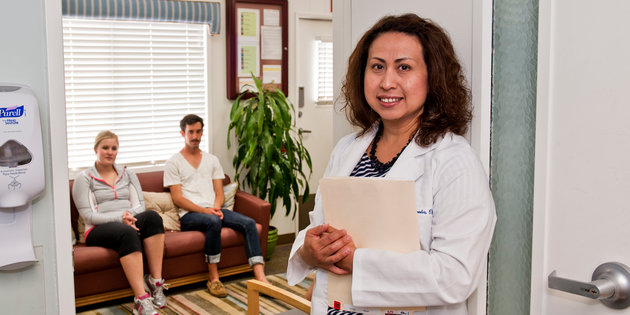 Our Student Health Center provides a wide variety of services similar to any family practice office, including care for respiratory problems, sports medicine, injuries, women's and men's health, and dermatology. The Center also administers the immunization and travel medicine programs.
All students seeking medical care at the Student Health Center will be assessed a $70 charge the first visit each semester plus fees for service for each additional visit during the semester. Ancillary services such as medications, injections, lab work, and surgical and elective procedures are additional; all fees charged at the SHC are very reasonable, and often insurance will reimburse for costs incurred. Since health insurance is mandatory for all Seaver students, the fees for visits can be charged to the student's account and a super bill provided to submit to the insurance company for reimbursement. Students wishing to see an off-campus medical provider (physician, dentist, optometrist, etc.) are encouraged to contact the Student Health Center for referral information.
The Student Health Center sees patients by appointment only, except in emergency cases, Monday through Friday. Appointments may be made by calling x4316. In case of a medical emergency, students should call Public Safety at x4441.
Pepperdine provides students with a medical information line: PEPRN is a toll-free, confidential hotline staffed by registered nurses with physician backup. You should use this program when you wish to ask a nurse to answer a medical question or to help you make a sound decision about your medical condition. The program is designed to help you decide what steps to take depending on the information provided. PEP-RN does not make a diagnosis or provide treatment over the phone. The PEP-RN number is 1-800-413-0848.
Additional information may be found at the Student Health Center.
Health Insurance
All Seaver students are required to furnish verification of health insurance. All international students are required to purchase insurance with U.S. based coverage. The University requires health care coverage for the purpose of limiting undue financial and academic stress related to illnesses during the academic year. A health policy will assist in meeting not only common illnesses treated at the Student Health Center or at a private physician's office, but also with the financial burden of illness and accidents involving more extensive care. Seaver students must annually submit an electronic waiver as proof of insurance, otherwise they will automatically be enrolled in the University health insurance plan.
Additional information may be found on the Student Health Insurance website.
Nutrition Services
Nutrition counseling and education is designed to help prevent nutrition-related health problems (including eating disorders, disordered eating, overweight/obesity, size prejudice, and poor nutrient intake) which can threaten students' academic and developmental success.
Nutrition Services will provide you with current information about food, nutrition and popular diets. We would like to help you adjust to the unique challenges that students face in the areas of meal planning, body image and nutritional well being.
Additional information may be found on the Nutrition Services website.