Songfest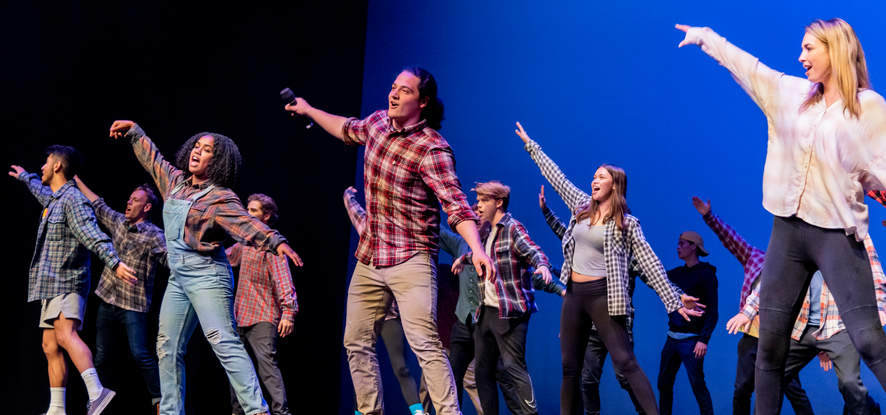 For current Songfest information please see our website: http://www.pepperdinesongfest.com/
Songfest is one of Pepperdine's greatest and most unique traditions, and has long been a favorite experience shared by students, alumni, and the greater Pepperdine family. This musical variety show, which features a cast of hundreds of students and a live orchestra, historically thrills each of its sold-out audiences during its annual six-performance run every March. More importantly, it provides each of its participants with an opportunity to forge wonderful friendships and share life-long memories. It is more uniquely "Pepperdine" than just about anything else that a student might do during his or her years at college.
Students of every kind join together in groups, each of which presents a 12-minutes-long show that features singing, dancing, creative sets, costumes, and a completely original script. All of the show's components are based upon a central theme, which is specifically unique to each year's Songfest.
Before performances begin, student cast members have just two weeks of fun-filled, close-quartered, and late-hour nights for rehearsal, production, and set construction. During this rehearsal period, they try to master and perfect as quickly as possible all the production elements as directed to them by their group leaders, who spend most of the school year selecting, designing, writing, and preparing each group's show material.
Though community is at the heart of Songfest, these student groups are also in competition with each other, and their performances are judged in several categories by a panel of entertainment-industry professionals and Pepperdine community members. At the conclusion of the final performance, the student group with the highest accumulated scores is presented the Songfest Sweepstakes Award.
Songfest also features several performances by the Songfest Hosts, a small ensemble of very talented students who spend several months preparing specially arranged music, choreography, and theme-based skits. The Hosts help to orient each audience throughout the show, and they provide for some wonderful transition and continuity from group to group.
2021 Virtual Performance Dates
Thursday, April 29 - Friday, April 30, 6:30 p.m. (PDT)
Tickets are on sale through the Smothers Theatre Box Office at 310-506-4522 or you can reserve tickets online http://arts.pepperdine.edu/tickets/.
Information regarding performance dates and times will be released in mid-February. For show information contact Student Activities at 310.506.4201 or songfest@pepperdine.edu.