Meet the Faculty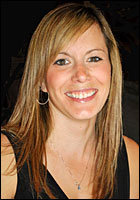 Jennifer Harriger
Associate Professor of Psychology
Division: Social Science Division
Office: Appleby Center (APC) 240
Phone: (310) 506-4128
Fax: (310) 506-7271
E-mail: jennifer.harriger@pepperdine.edu

B.S., Biology, West Chester University, 2000
M.S., Clinical and Health Psychology, Drexel University, 2002
Ph.D., Developmental Psychology, University of New Mexico, 2009
Courses:
Child Clinical Psychology
Developmental Psychology
Foundations of Psychology
Body Image and Eating Disorders
Key Awards/Affiliations:
Seaver Academic Year Undergraduate Research Initiative Grant (AYURI), 2010, 2011, 2012, 2013, 2014
Seaver Endowed Fellowship in Social Science, 2010-2011, 2012-2013, 2013-2014
Seaver Dean's Research Grant, 2011-2012, 2012-2013
Outstanding Faculty Member of the Year, 2008
Outstanding Teaching Assistant of the Year, 2004
American Psychological Association (APA)
Academy for Eating Disorders, co-chair of the athletes and eating disorders special interest group
Society for Research in Child Development
Academic Interests:
Child-Clinical Psychology
Development of Body Image
Eating Disorders and Obesity in Children and Adolescents
Selected Works:
Harriger, J.A. (in press). Age differences in body size stereotyping in a sample of preschool girls. Eating Disorders: The Journal of Treatment and Prevention. doi: 10.1080/10640266.2014.964610
Harriger, J. A., Witherington, D.C., & Bryan, A.B. (2014). Eating pathology in female gymnasts: Potential risk and protective factors. Body Image, 11, 501-509. doi: 10.1016/j.bodyim.2014.07.007
Harriger, J.A. & Thompson, J.K. (2012). Psychological consequences of obesity: Weight bias and its relationship to body image in youth. International Review of Psychiatry, 24, 247-253. doi:10.3109/09540261.2012.678817
Harriger, J.A. (2012). Children's media influences. In T. Cash (Ed.), Encyclopedia of body image and human appearance. (pp. 314-319). Academic Press: Oxford.
Harriger, J.A., Calogero, R.M., Witherington, D.C., & Smith J.E. (2010). Body size stereotyping and internalization of the thin-ideal in preschool-age girls. Sex Roles, 63, 609-620. doi: 10.1007/s11199-010-9868-1
Witherington, D. C., Campos, J. J., Harriger, J. A., Bryan, C., & Margett, T. E. (2010). Emotion and its development in infancy. In G. Bremner (Ed.), Blackwell handbook of infant development. Cambridge: Blackwell.
Witherington, D.C. & Crichton, J.A. (2007). Frameworks for Understanding Emotions and their Development: Functionalist and Dynamic Systems Approaches. Emotion 7(3), 628-637.