Meet the Faculty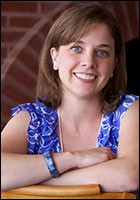 Janet Trammell
Associate Professor of Psychology
Division: Social Science Division
Office: Appleby Center (APC) 246
Phone: 310-506-6947
E-mail: Janet.Trammell@pepperdine.edu

Postdoctoral Fellow, University of Virginia, 2011-2012
Ph.D, Cognitive Psychology, University of Virginia, 2011
M.A., Cognitive Psychology, University of Virginia, 2006
B.S., Birmingham Southern College, Psychology, 2004
Courses:
Principles of Learning
Cognitive Processes
Research Methods
Key Awards/Affiliations:
Distinguished Teaching Fellowship, University of Virginia, 2011.
American Psychological Association Dissertation Research Award, 2009.
Presidential Fellowship, University of Virginia: 2004-2008
William James Award, Birmingham-Southern College, 2004.
Association for Psychological Science (APS)
American Psychological Association (APA)
Academic Interests:
Emotion and Cognition
Emotion and Learning
False Memory
Stress and Memory
Selected Works:
Clore, G.L. & Palmer, J.E. (2009). Affective guidance of intelligent agents: How emotion controls cognition. Cognitive Systems Research, 10, 22-30.
Palmer, J.E., & Dodson, C.S. (2009). Investigating the mechanisms fueling reduced false recall of emotional material. Emotion and Cognition, 23, 238-259.
Willingham, D. T., &Trammell, J. P. (2009). Sequence learning. In T. Bayne, A. Cleeremans, & P. Wilken (Eds.), Oxford Companion to Consciousness (595-597). New York: Oxford University Press.