Meet the Faculty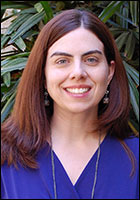 Candice Ortbals
Professor of Political Science
Division: Social Science Division
Office: Appleby Center (APC) 220
Phone: (310) 506-6708
Fax: (310) 506-7271
E-mail: candice.ortbals@pepperdine.edu

Ph.D. in Political Science, Indiana University, Bloomington, Indiana, 2004
M.A. in Political Science, Indiana University, Bloomington, Indiana, 2000
B.A. in Political Science, History, and Spanish, Harding University, Searcy, Arkansas, 1997, Summa Cum Laude
Courses:
Women and Politics
Comparative European Politics
Government and Politics of Latin America
Politics of Revolution and Protest
American People and Politics
Key Awards/Affiliations:
President of the American Political Science Association's National Women's Caucus for Political Science (2011-2012)
President of the Midwest Political Science Association's Women's Caucus (2010-2011)
Carrie Chapman Catt Prize for Research on Women and Politics (with Meg E. Rincker)
Rita Mae Kelly Endowment Fellowship, American Political Science Association (with Meg E. Rincker)
Academic Interests:
Comparative Politics: gender & politics, terrorism & violent conflict, prostitution, comparative methods, social movements, local politics, democratization, Spanish and Latin American women's movements, Spanish politics.
Gender Studies: feminist theory, women and religion, feminist ethnography.
Research Team Full Member, Spain, Research Network on Gender Politics and the State (Rings), 2003-present.
Selected Works:
Book
Terrorism and Women: A Gender Analysis of Perpetrators, Responders and the Public, book manuscript under contract with Springer-Verlag (forthcoming, with Lori Poloni-Staudinger)
Book
Terrorism and Violent Conflict: Women's Agency, Leadership, and Responses, Springer-Verlag (with Lori Poloni-Staudinger)
Peer-Reviewed Journal Article
"Women Policymakers Framing their Leadership and Lives in Relation to Terrorism: The Basque Case." Journal of Women, Politics, and Policy 37(2): 121-144. (2015, with Lori Poloni-Staudinger)
Peer-Reviewed Journal Article
"Women Defining Terrorism: Ethnonationalist, State, and Intimate Terrorism." Critical Studies on Terrorism 7(3): 336-356. (2014, with Lori Poloni-Staudinger)
Peer-Reviewed Journal Article
"The Domestic Determinants of Transnational Activity: An Examination of Women's Groups in the United Kingdom, France and Germany," International Studies Quarterly (2013, with Lori Poloni-Staudinger)
Peer-Reviewed Journal Article
"Gendering Abbottabad: Agency and Hegemonic Masculinity in an Age of Global Terrorism." Gender Issues 31(1): 34-57. (2014, with Lori Poloni-Staudinger)
Peer-Reviewed Journal Article
"Politics Closer to Home: The Impact of Subnational Institutions on Women in Politics," Publius: The Journal of Federalism 42(1): 78-10. (2012, with Meg E. Rincker and Celeste Montoya)
Peer-Reviewed Journal Article
"Gendered Opportunities? Political Opportunities and Activity Choice Among Women's Movements in the UK, France, and Germany." Social Movement Studies: Journal of Social, Cultural and Political Protest 10(1): 55-79. (2011, with Lori Poloni-Staudinger)
Peer-Reviewed Journal Article
"The Potential of Local Women's Associations in Andalusia: Pursuing Culture, Enriching Lives, and Constructing Equality," South European Society and Politics 15(2): 203-223. (2010)
Peer-Reviewed Journal Article
"Embodied Researchers: Gender, Research Activity, and Pregnancy in the Field." PS: Political Science and Politics 42(2): 315-319 (April 2009, with Meg E. Rincker)
Peer-Reviewed Journal Article
"Fieldwork, Identities and Intersectionality: Negotiating Gender, Race, Class, Religion, Nationality, and Age in the Research Field Abroad." PS: Political Science and Politics 42(2): 287-290 (April 2009, guest editor introduction with Meg E. Rincker)
Peer-Reviewed Journal Article
"Leaders or Laggards: Engendering Regional Governance in Spain and Poland." Democratization 16(2): 269-297 (April 2009, with Meg E. Rincker)
Peer-Reviewed Journal Article
"Subnational Politics in Spain: New Avenues for Women's Activism and Policymaking." Politics & Gender 4(1): 93-119 (March 2008)
Peer-Reviewed Journal Article
"Subnational Governance in Europe: Engaging Students with the Spanish Sub-state." PS: Political Science and Politics 40(4): 711-715 (October 2007)
Peer-Reviewed Journal Article
"Jumbled Women's Activism: Subnational And International Influences On Galician Equality Politics." International Feminist Journal of Politics 9(3): 359-378 (September 2007)
Selected Links: