Religion Faculty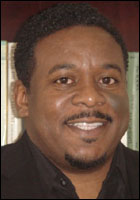 Raymond Carr
Assistant Professor of Religion
Division: Religion and Philosophy Division
Office: Appleby Center (APC) 253
Phone: 310-506-4526
Fax: 310-506-6907
E-mail: raymond.c.carr@pepperdine.edu

Ph.D. Systematic and Philosophical Theology, Graduate Theological Union, 2011
M.Div., Pepperdine University, 2000
M.S. Bible and Ministry, Lubbock Christian University, 1998
B.A. Liberal Arts, Lubbock Christian University, 1996
B.S. Bible and Ministry, Lubbock Christian University, 1995
Sunset International Bible Institute, , 1994
Courses:
REL 101: History ad Religion of Ancient Israel
REL 301: Christianity and Culture: Theology Born of Struggle
Key Awards/Affiliations:
Visiting Professor Seaver International Program Lausanne Switzerland (Summer 2014), 2013
Visiting Professor Seaver International Program Shanghai, China (Summer 2012), 2012
Dissertation Honor: Pass with Distinction, 2011
George H. Mayr Foundation, Scholarship, Graduate Theological Union, 2005, 2005
Summa Cum Laude, GPA 4.0/4.0 President's Honor Award at Lubbock Christian, 1995
Valedictorian at Sunset International Bible Institute, 1994
Selected to attend Recruitment Conference 2000, sponsored by SBL, AAR, ATS and the Fund for Theological Education, Berkeley, CA, September 22-24, 2000
American Academy of Religion
International Thomas Merton Society
Karl Barth Society
Academic Interests:
Biblical Studies
Black Theology
Ecumenical Theology
Pneumatology
The Theology of Karl Barth
Theological Ethics
Selected Works:
Barth and Cone in Dialogue: On Revelation and Freedom. [Forthcoming]
Dissertation: Barth and Cone in Dialogue on Revelation and Freedom: An Analysis of James Cone's Critical Appropriation of "Barthian" Theology. Fall 2011
"Being Confronted by the Presence of God: Marveling in God's Holiness and Transcendence" in Leaven 14:3 (2006): 139-144
"Black History is American History," Pepperdine University: News and Events.
Performances:
Conference Paper, Barth and Cone in Dialogue, Karl Barth Conference, Princeton June 2013 [Forthcoming]
Conference Paper,Merton and Barth in Dialogue on Faith and Understanding: A Hermeneutics of Freedom and Ambiguity, June 2013 [Forthcoming]
Session Speaker, The Battle is the Lords: Eschatology and Christian Witness in the Book of Revelation 70th Annual Bible Lectures, Pepperdine University, Malibu CA, 2013
International Programs, SALT Series Speaker, Throwing Off the Bowlines, February 2013
San Francisco Educational Trip Speaker, Locally Engaged Global Leadership, February 2013
Keynote Speaker, What's Going On in Society Today?, Where Do We Go From Here? USC Black Staff and Faculty Caucus 32nd Annual Dr. Martin Luther King, Jr. Birthday Celebration, January 2013
Convocation Series Speaker, The Spiritual Practice of Peace, Pepperdine University, December 2012
Moderator for Panel at AAR/SBL Conference in Chicago, Critical Conversations on the Cross and the Lynching Tree, Chicago November 2012
Guest Lecturer, Interpretation from Karl Barth to Liberation Theology, Dr. Danny Matthews, Introduction to Biblical Interpretation, REL 302/502, AC 286 November 1, 2012
Featured Speaker, Free to Date Club Convo Student Dorms, October 11, 2012
Featured Speaker, Faith and Vocation in a Pluralistic World, Waves Weekend Faculty Lecture Series, Student Affairs, October 13, 2012
Faculty Volunteer, Dunk Tank Waves Weekend, Student Activities October 13, 2012
Session Speaker, God's Sovereign Freedom: Election and Jewish Christian Relations in Romans 9-11, 69th Annual Bible Lectures, Pepperdine University, Malibu CA, Friday May 4th 2012
Invocation, Seaver College Graduation Banquet, Pepperdine University, April 27th, 2012.
Keynote Address for Senior Celebration, Black Student Association (BSA), April 6th, 2012.
Feature Film Respondent and Moderator, Life in a Day, Reel Stories Film Festival, February 27, 2012.
Featured Speaker, Where Do We Go From Here, The Africana Students of Psychology and Education Association (ASPEA), Pepperdine Graduate School of Psychology, February 25, 2012
Retreat Small Group Facilitator, Spiritual Discernment Retreat: Press Pause, Center for faith and Learning, La Casa Maria Retreat Center, Santa Barbara, CA. November 2011
Keynote Address, The Gift of Diversity, Pepperdine University Multicultural Graduation Celebration, April 29, 2011
Keynote Address, The Abundant Life, Pepperdine University Baccalaureate Ceremony, April 29, 2011
Keynote Address, The Gift of Honor: Being Honored and Being Honorable, Pepperdine University Student Athlete Academic Honor's Luncheon, April 14, 2010
Convo Series Speaker, Finding Freedom, Seaver College Chapel, Convocation Office, Student Affairs, Firestone Fieldhouse, April 6, 2010
Retreat Small Group Facilitator, Spiritual Discernment Retreat: Soul Food Life in Community, Center for faith and Learning, La Casa Maria Retreat Center, Santa Barbara, CA. November 2010
Respondent, Black Men in America: A Christian Perspective, Pepperdine University Intercultural Affairs Office, November 12, 2010
Speaker, Introduction to Seaver Dean's Distinguished Lecture, Cornel West: The Vocational Sensibilities of a Blues Philosopher, October 2009
Session Speaker, Graced: A Theological View of Family in light of the Kingdom of God, Boone Center for the Family of Faith Network, June 18, 2009.
Keynote Speaker, The God of Heaven, 3rd Annual Norman D. Hill Foundation Lectures, Minister's Retreat. Atlanta, GA 2006
Session Speaker, Being Confronted by the Presence of God: Marveling in God's Holiness and Transcendence, 63rd Annual Bible Lectures, Pepperdine University, Malibu, CA, Tuesday May 4, 2006
Keynote Address, I'll Never Forget, Black Baccalaureate, Pepperdine University, Student Activities, April 2001
Selected Links: