Religion Faculty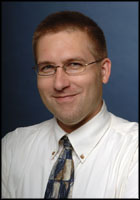 R. Christopher Heard
Associate Professor of Religion
Division: Religion and Philosophy Division
Office: Appleby Center (APC) 278
Phone: (310) 506-4299
Fax: (310) 506-6907
E-mail: christopher.heard@pepperdine.edu

Blog: Higgaion
Ph.D., Religious Studies, Southern Methodist University, Dallas, TX, 2000 M.A., Old Testament Studies, Abilene Christian University, Abilene, TX, 1993
B.A., Human Communication, Abilene Christian University, Abilene, TX, 1989
Courses:
Old Testament in Context
The Pentateuch
Old Testament History
The Wisdom Literature
Old Testament Theology
Elementary Hebrew I-II
Intermediate Hebrew I
Key Awards/Affiliations:
Glazer Institute for Jewish Studies Teaching Grant (2013-2014)
Faculty Innovation in Technology and Learning Grant (2009-2010)
Seaver Research Council Grant (2009-2010)
Howard A. White Award for Teaching Excellence (2007)
Seaver Fellow in Religion, 2005-2006
Armstrong Fellow in Religion, 2004-2005
Society of Biblical Literature (member, 1998-present; co-founder of Genesis section and co-chair, 2011-2016)
Society of Biblical Literature, Pacific Coast Region (Regional Coordinator, 2013-present, past president, 2010-2011; president, 2009-2010; vice president, 2008-2009; chair, Hebrew Bible section, 2006-2013)
Catholic Biblical Association (member)
National Association of Professors of Hebrew (member)
Academic Interests:
Judean culture, history, and literature in the Persian period
Literary features of biblical narrative
Reception history and reception theory, focusing on the Bible in popular culture
The book of Genesis
Selected Works:
Drawing (on) the Text: Biblical Reception in Animated Films. Pp. 267-283 in The Bible in Motion: A Handbook of Biblical Reception in Film. Ed. Rhonda Burnette-Bletsch. Berlin: de Gruyter, 2016.
The Genesis of Identity in the Biblical World. Co-authored with Danna Nolan Fewell. Pp. 109-124 in The Oxford Handbook of Biblical Narrative. Ed. Danna Nolan Fewell. Oxford: Oxford University Press, 2016.
On the Road to Paran: Toward a Christian Perspective on Hagar and Ishmael. Interpretation 68 (2014): 270-285.
Animated Films. Pp. 26-31 in Encyclopedia of Religion and Film. Ed. Eric Mazur. Santa Barbara: ABC-CLIO/Greenwood, 2011.
God. Pp. 197-203 in Encyclopedia of Religion and Film. Ed. Eric Mazur. Santa Barbara: ABC-CLIO/Greenwood, 2011.
What Does the Mob Want Lot to Do in Genesis 19:9? Hebrew Studies 51 (2010).
Genesis. Pp. 107-142 in The Transforming Word: A One-Volume Commentary on the Bible. Ed. Mark W. Hamilton et al. Abilene: Abilene Christian University Press, 2009.
Triangulating Responsibility: How and Why Abraham, Isaac, and Ishmael Offer and Refuse the Gift of Death, and to/from Whom. Pp. 151-166 in Derrida's Bible: Reading a Page of Scripture with a Little Help from Derrida. Ed. Yvonne M. Sherwood. New York: Palgrave Macmillan, 2004.
Dynamics of Diselection: Ambiguity in Genesis 12-36 and Ethnic Boundaries in Post-Exilic Judah. Semeia Studies. Atlanta: Society of Biblical Literature, 2001.
They're Not Just Bad, They're Stupid and Ugly, Too: The Depiction of Baal-Worshipers in Nest Entertainment's Animated Stories from the Bible. Pp. 89-103 in Culture, Entertainment, and the Bible. Edited by George Aichele. Sheffield: Sheffield Academic Press, 2000.
Hearing the Children's Cries: Commentary, Deconstruction, Ethics, and the Book of Habakkuk. Semeia 77 (1997) 75-89.